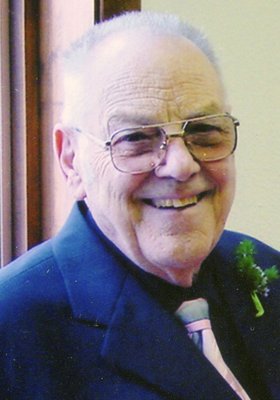 Vern Henry Lewis
September 24, 1918 - December 5, 2009
Vern Henry Lewis, of Salem, Ore., died Dec. 5, 2009. He was born Sept. 24, 1918, on a farm 10 miles northwest of Emporia in Chase County, Kansas, the fourth child of Mahlon Henry Lewis and Beulah Bell (Jones).
Due to dust storms, grasshoppers and the Depression, the family of seven auctioned the farm in 1937 and moved to Palo Alto, Calif. Vern graduated from Pasadena Nazarene College in 1945 with a Bachelor of Theology degree.
While attending Pasadena Nazarene College, he met and married Betty Jane Buchan in 1942. Vern and Betty moved to Covert, Kansas, in 1945 to begin their pastorate career. They ministered 13 years in Kansas, including Anthony, Hutchinson and Garden City.
In 1958, they moved to Hood River, Ore., and began an 18-year ministry that included serving congregations in Hood River, Klamath Falls and Molalla.
In 1976 they moved to Fairbanks, Alaska, where they ministered for nine years. They retired to Vancouver, Wash., in 1985.
Vern served as guest preacher and interim pastor in several churches including Redmond and Camas, Wash., and Lakeview and Cottage Grove, Ore. They eventually lived with their son Steve in Portland and Aurora, Ore. On Oct. 1, 2001, Betty went to be with the Lord.
In December of 2001 Vern moved to Mount Angel, Ore. At the young age of 84, he met and married Gwendolyn Causey on March 29, 2003. They lived in Silverton and Mount Angel.
As health conditions continued to impact Vern, they moved to Salem, Ore., for assisted living support. Vern passed peacefully on Dec. 5, 2009, with his family by his side.
Vern is survived by his wife, Gwendolyn; sons David (Linda), of Sunriver, Ore., Steve (Charles), of Aurora, Ore., and Mark, of Phoenix, Ariz.; and grandchildren Justin, Jared, Nicole and Matthew. He also leaves stepdaughter Patricia Ann Sweetwood, of Woodburn, Ore.; step-grandchild Jennifer Lynn Paul and step-great-grandchildren Breanna Dawn and Dannielle Marie.
He is also survived by brothers Fred, of Bremerton, Wash., and David, of Central Point, Ore.
He is predeceased by Betty, daughter Gail Lynne and sisters Cora Ella Hawkins and Almeda Sprague.
Memorial services are scheduled for Jan. 16 at 3 p.m. at the Silverton Nazarene Church, 1130 S. Water St., Silverton, Ore.