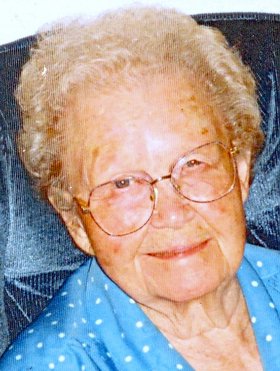 Anne Mary Winslow
August 15, 1915 - January 14, 2010
Anne Mary (Lauby) Winslow, 94, of Hood River, Ore., died peacefully at home on the evening of Jan. 14, 2010.
Anne was born Aug. 15, 1915, in Nezperce, Idaho, the second child of Nicholas and Mary Lauby. The Laubys homesteaded near Savageton, Wyo., in 1917 where two brothers and another sister joined Anne and her older sister.
In 1922, the family moved to Mt. Angel, Ore., where Anne and her siblings grew up. She graduated high school from Mt. Angel Academy and attended business college in Salem. Upon graduation, she worked as a secretary there.
On Sept. 25, 1937, Anne married Charles E. "Tommy" Winslow in Mt. Angel and they made their home in Salem. Tommy enlisted in the U.S. Navy during World War II and Anne continued to work. After the war, they lived in Vancouver, Wash., where Tommy worked for Bonneville Power Administration.
She was close with her sisters, Liz and Veronica, and their husbands, Walt and Louie, and their families, all of whom lived across the river in Portland. When Tommy retired, they moved to the Oregon coast and then to Hood River in the late 1970s. Tommy died in 1983.
Anne had an active life for many years, enjoying genealogy and traveling, oftentimes combining both interests. She made a few visits with her sisters and brother, Joe, to Wyoming to see the extended Lauby-Schlautmann family. Together, they went to a Lauby family reunion in Nebraska, and even to Germany to visit more-distant relatives.
She liked to knit and crochet and made afghans for several family members. Anne also enjoyed reading and gardening. She was a kind, generous person who was always smiling and happy with her life.
Anne is survived by her sister, Elizabeth Cutshall; her brother Joseph; her sister-in-law, Louise Lauby; five nephews, nine nieces and numerous grand-nephews and grand-nieces; and her caregiver, Anita Allen, and her husband, Terry; as well as her friends who live at Anita's.
She was preceded in death by her parents; her husband; her older sister, Veronica; and her brother Anthony.
A rosary will be said at 2 p.m. on Wednesday, Jan. 20, at St. Mary's Church, 1501 Belmont Ave., Hood River, followed immediately by a funeral Mass. After Mass, graveside services will be held at St. Mary's Cemetery.
Arrangements are being handled by Anderson's Tribute Center, 1401 Belmont Ave., Hood River, OR 97031; 541-386-1000. Please visit www.andersonstributecenter.com to sign the family guest book.