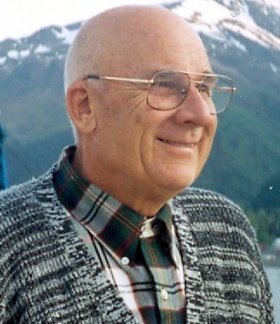 Carrington "Larry" Barrington Young III
February 17, 1926 - January 14, 2010
Carrington Barrington "Larry" Young III, a longtime resident of Hood River, died at Providence Hood River Memorial Hospital on Thursday, Jan. 14, 2010, with his family at his side.
A service to mourn his passing and celebrate his life is planned for 2 p.m. Thursday, Jan. 21, at Anderson's Tribute Center, 1401 Belmont Ave., Hood River, led by celebrant speaker and family friend Bob Huskey. Entombment will follow at the Idlewilde Mausoleum. Friends are invited to visit with family and viewing Wednesday evening from 5-7 p.m. at Anderson's.
Larry was the only son born to Carrington Barrington and Mary Frances (Obdrzalek) Young II in Los Angeles, Calif., on Feb. 17, 1926. Both of his parents died by the time Larry was 6 and he was sent to live with relatives in Portland, Ore.
Larry attended Benson Tech in Portland and, like many young men during World War II, enlisted to serve his country. He spent two years in the South Pacific on an Army transport ship as a merchant seaman.
He bought his first car on Sandy Boulevard and asked the salesman to point the car in the direction of Hood River. Still in his uniform, not knowing how to drive, he headed east to join Carl Heller, the man who raised him.
Larry met the love of his life, Laura Abercrombie, in Hood River. She lived with her parents behind Heller's Café on the west end of Hood River. Larry and Laura married July 30, 1947, in that same house and at a very young age took over the café.
Laura's mom, Erna, became the mother he always wanted and adored him until her death in 1983.
Larry was never ashamed to admit to anyone that he and Laura were terrible at running a restaurant and it took him 10 years working at SD & S Sawmill in Bingen, Wash., to pay off the debt. He made longtime friends during his logging industry career and respected the strength of people who worked that job.
He and Laura had four children. Their first-born, Carrington Barrington IV, died in infancy in November 1949. They were blessed with three daughters, Carrie, Barbara and Mary.
At age 32, with the encouragement of his family, he began a 51-year career in Real Estate. His orange-and-black Young Realty signs dotted property in Hood River County until 1978 when he closed the office; however, he continued to work in Real Estate from his back workroom office until his death.
Larry and Laura loved to square dance. Larry was a caller for several clubs including the Wy'east Whirlers of Hood River, Checkerboard Squares, Swinging Archies and Bachelors and Bachelorettes of Portland, Ore. He and his clubs were honored in the Portland Rose Festival Starlight Parade and performed at a halftime show for the Portland Trail Blazers.
In addition to the square dance clubs, Larry belonged to the Hood River Saddle Club, Odd Fellows and the American Legion.
Larry loved to be with "his girls" (wife, mother-in-law, daughters and granddaughters) and took them on many vacations and trips over the years. They traveled via horses, trucks, cars, vans, campers, trailers, motor homes, jets and cruise ships.
Larry is survived and will be dearly missed by his wife of 62 years, Laura; three daughters, Carrie Weathers, of Hood River, Barb (and Kirk) Stein, of Hood River, and Mary (and Steve) Stiles, of Milwaukie, Ore.; granddaughters Darcie (and Rich) Ahrendt, of Troutdale, Ore., Jeannette (and Mike) Whalen, of Oregon City, Ore., and Aimee Cooper, of Portland, Ore.; step-grandson Josh (Wendy) Stiles; great-grandson Payton Ahrendt; step-great-grandchildren Brycen and Makenzie Stiles and Andrew Ahrendt; two nieces and a nephew; and his "kid" brother Bill (and Kathy) Johnnson.
Memorial contributions in Larry's name can be made to West Side Fire Department and/or Providence Hood River Memorial Hospital and sent in care of Anderson's Tribute Center, 1401 Belmont Ave., Hood River, OR 97031; 541-386-1000.
Please visit www.andersonstributecenter.com to sign the family guest book.