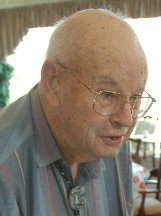 Lyle Martin Dillenbeck
November 15, 1917 - January 14, 2010
Lyle Martin Dillenbeck, 92, passed away at his residence at Hawks Ridge Assisted Living in Hood River, Ore., on Jan. 14, 2010.
Lyle was born Nov. 15, 1917, in Williamston, Mich. He was one of three sons of Ray C Dillenbeck and Muriel (Merrifield) Dillenbeck. Lyle was raised in Williamston.
After graduating high school he got his barber's license and worked with his father until he was drafted into the Army Air Force on June 26, 1941; his basic training was at the Portland Air Base in Portland, Ore. He was promoted to private first class following his basic training.
Initially Lyle was an airplane and engine mechanic, assisting in performing prescribed inspections and maintenance of aircraft. It was his responsibility to see that engines were in proper working order by doing tune-ups and pre-flight inspections.
He met his wife, Virginia, on April 12, 1942, while he was stationed there.
Lyle was sent to radio mechanic schooling in Los Angeles, Calif., and was subsequently promoted to tech sergeant with the 47th Bomb Squadron. As a radio mechanic he performed necessary maintenance and repair work on AAF airborne radio equipment.
He made periodic inspections of radio equipment, kept equipment cleaned; inspected antenna systems, cords, plugs, telegraph key and control switches. He tested equipment, made necessary adjustments and replaced needed parts.
He was deployed to Kahoka Air Base in Honolulu, Hawaii. He and Virginia were married Aug. 10, 1942, while he was on leave. He then transferred to Abemama Air Base in the Gilbert Islands and was there for a little over a year before being briefly deployed to Kansas, then back to Portland Air Base with the 41st Bomb Squadron. He was given an honorable discharge on Oct. 9, 1945.
After leaving the Army Lyle and Virginia had a farm on Dethman Ridge in Hood River, Ore. During this time they had two sons, Loyd and Don. Lyle also worked Diamond Fruit Growers until he retired.
Lyle's favorite hobby was rock collecting. He loved to cut and polish the ones that he collected. He got the nickname of "Rocky" from his co­workers. He also loved working in his yard. He was a member of the Odd Fellows Lodge in Odell.
Lyle was preceded in death by his parents, his wife, Virginia, and two brothers, Max Dillenbeck and Gerald Dillenbeck.
Lyle is survived by a brother, Keith Sadler, of Williamston, Mich.; sons Loyd Dillenbeck and his wife, Stella, of Alamogordo, N.M., and Don Dillenbeck and his wife, Cindy, of Hood River; granddaughters Marcella (Dillenbeck) Garland, of Anchorage, Alaska, and Michelle (Dillenbeck) Portnoy, of Tempe, Ariz.; grandsons Aaron Dillenbeck, of Hood River, and Nicholas Dillenbeck, of Ramstein Air Force Base in Germany; great-granddaughter Kaelin Portnoy; and great-grandsons Elijah and Samuel Garland; and many other friends and family.
Memorials can be made to the Gorge Heroes Club and sent care of Anderson's.
A funeral service with military honors will be conducted 2:30 p.m. Saturday, Jan. 23, at Anderson's Tribute Center, 1401 Belmont Ave., Hood River, OR 97031. Graveside rites will follow at the Pine Grove Butte Cemetery. Family friend and pastor, Carl Casey of the Parkdale Nazarene Church, will officiate. Please visit www.andersonstributecenter.com to sign the family guest book.