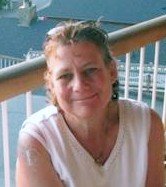 Lida Marie Larsen
June 1, 1961 - January 13, 2010
Lisa Marie Larsen lost her battle with cancer and joined her older sister Mary Larsen Hughes in the eternal peace of heaven on Jan. 13, 2010.
Lisa survived a near-fatal car accident a few years ago and shortly thereafter was diagnosed with a very rare form of cancer. During these past few years Lisa showed courage, determination, a deep understanding of faith and acceptance of things that were beyond her control.
She touched the lives of everyone who came in contact with her during her many surgeries, treatments, recovery and also in her final days. This is the same spirit that Lisa lived her entire life with.
Lisa was born in Danbury, Conn., on June 1, 1961, to Theresa and Lars Larsen. She spent her early years in Connecticut, Florida and North Dakota until the family settled in Odell, Ore., when Lisa was a young girl.
Lisa considered Hood River, Ore., and the Columbia River Gorge to be her only home. She graduated from Hood River Valley High School in 1978.
Lisa worked in road construction for many years until joining the ODOT family about five years ago. She was a snow plow driver at Santiam Pass in Central Oregon and enjoyed this accomplishment given her small stature and physical challenges following her car accident.
She loved the beauty of this area including the snow, but most of all she loved the people! Lisa had friends throughout all of Oregon.
Lisa's life revolved around her most prized treasures: her children, grandchildren, and family! She is survived by her daughter, Krista Larsen, son-in-law Omar and three grandsons, Cesar, Adrian, and Cristian, of Gresham, Ore.; son Michael Meza and granddaughter Tiannah, of Gresham and Hood River, Ore.; parents Theresa and James Franks of Mosier and Cascade Locks, Ore.; and sister Marcy Fletcher, of Troutdale, Ore.
Donations can be made in memory of Lisa to Heart of Hospice Foundation of Hood River thru Anderson's Tribute Center.
Services will be held at 1:30 p.m. Wednesday, Jan. 27, at Anderson's Tribute Center (Funerals, Receptions, Cremations), 1401 Belmont Ave., Hood River, OR 97031; 541-386-1000. A reception will follow. Please visit www.andersonstributecenter.com to sign the family guest book.