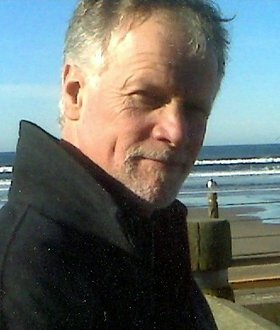 Paul Edmond Ewers
June 21, 1954 - January 16, 2010
Paul Edmond Ewers, 55, of Hood River, Ore., died Jan. 16, 2010, as the result of an injury sustained while working on I-84 near Mosier, Ore.
A service to mourn his passing and honor his life is planned for 11 a.m. Saturday, Jan. 30, at Anderson's Tribute Center, 1401 Belmont Ave., Hood River. Friends are invited to greet family Friday evening (Jan. 29) from 5-7 p.m. during a time of viewing at Anderson's.
Paul was born June 21, 1954, in Marysville, Calif., to Phillip Forsythe Ewers and Marilyn Louise Searcy. He lived in California until his 16th birthday, when he took a Greyhound bus to Oregon.
He lived in Dallesport, Wash., for a short time before moving to Hood River. He attended Hood River Valley High School for about a year before packing up a few belongings and hitchhiking across the U.S. and Canada.
Paul returned to Oregon in his early 20s and married Ruth Proffitt on Oct. 8, 1977, in Parkdale, Ore. He began working for ODOT in 1979. He worked in Parkdale before transferring to Bend and later to The Dalles.
Paul and Ruth were blessed with two children: Lora and Eric. The family enjoyed the great outdoors together; hiking, camping, riding bikes and taking trips.
Paul loved to travel and took many pictures along the way. He enjoyed driving and also taking Amtrak. Lora recalls taking the train through West Glacier National Park. He also took Eric on a trip to San Luis Obispo, Calif., (where Paul had spent some time in his youth) by train a few years ago.
Paul and Ruth just recently separated but have maintained a friendship and active roles in their children's lives.
Paul was a great friend; he was the guy you would call if you needed help; the one you could always count on. He would drop everything to help family and friends move and was always there to give advice and listen to the people he loved.
Paul is survived and will be dearly missed by all who knew him. His untimely death leaves much sadness amongst his family and friends. Survivors include his mother, Marilyn Myers, of Newport, Ore.; daughter Lora Ewers, of Hood River; son Eric Ewers, of Portland, Ore.; and Ruth Ewers, of Hood River.
He is also survived by his 10 siblings and their spouses: Ron Ewers, of Portland, Ore., Roger Ewers, of Bend, Ore., Jean Kipp, of Montague, Calif., Phil Ewers, of Portland, Brian Godsill, of Idaho, Rob Godsill, of Idaho, Pat Godsill, of Portland, Sean Godsill, of San Diego, Calif., Catherine Camacho, of Oklahoma City, Okla., and Roberta Rosario, of Carson City, Nev.
Please visit www.andersonstributecenter.com to leave a note of condolence for his family.