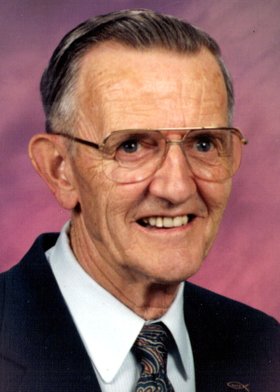 Robert "Bob" Earl Eby
March 29, 1919 - December 29, 2009
Robert Earl Eby, son of Stephen Eby and Elizabeth Copper Eby, was born on March 29, 1919, in Hood River, Ore., and died on Dec. 29, 2009, in Portland. He attended Clatskanie High school and Oregon State University.
Bob served as a fighter pilot, based in Duxford, England, during World War II. He received the Distinguished Flying Cross and Air Medal and achieved the rank of lieutenant colonel.
A civil engineer, he retired after 30 years with Weyerhaeuser Company. He was an international authority on wood lamination.
Bob was preceded in death by his son, Robert J. Eby, and by Esther Jensen Eby, of Marshland, his beloved wife of 61 years.
He is survived by his daughters Gaile Baack, of Portland (husband Don), and Trish Eby, of San Francisco, Calif.; by his grandchildren Eric Baack, Kristi Baack (husband Bernie Deazley), Dr. Joshua Hanelin and Cara Hanelin; and by his great-grandchildren Annika and Oliver Deazley.
Bob was entombed with military honors in a private service at the Riverview Abbey on Dec. 31, 2009. A memorial in celebration of Bob's life will be held at St. Luke Lutheran Church in Portland, on Feb. 6 at 11 a.m.
Remembrances may be made to the Prayer Garden fund at Redeemer Lutheran Church, 1001 Princeton, Fircrest, WA 98466, or to the Robert J. Eby Scholarship, Oregon Student Assistance Commission, 1500 Valley River Drive, Suite 100, Eugene, OR 97401.