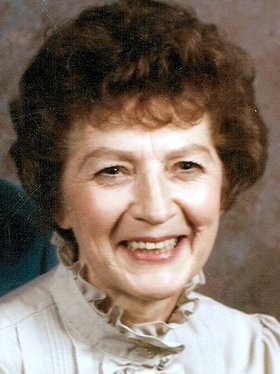 Virginia Ann Robertson
July 29, 1927 - January 21, 2010
Virginia Ann Troxel Robertson, 82, a resident of The Dalles, Ore., died at her home surrounded by family on Thursday, Jan. 21, 2010.
She was born in Castleton, N.D., on July 29, 1927, the youngest of four children to Reinhard F. and Anna L. (Bahls) Flath. Several years later her family moved to Perham, Minn., and then to Portland, Ore., when Virginia was in junior high. She graduated from Jefferson High School in 1945.
In 1953, Virginia met and married Manvil Troxel. Later the family moved to Mosier, where they farmed and raised fruit. While living in Mosier, she was a homemaker, worked on the ranch and worked for Diamond Fruit Company.
In 1974, the couple divorced and Virginia moved to The Dalles. In 1980, she met and married Ron Robertson. She was a CNA and worked in the nursing home field for many years.
She enjoyed sewing, her pets and especially spending time with her children, grandchildren and great-grandchildren.
Virginia is survived by her husband, Ron, of The Dalles; sons Bill Troxel, of The Dalles, and David Troxel and his wife, Donna, of The Dalles; stepdaughter Victoria Johnson and her husband, David, of Prescott, Ariz.; stepsons Paul Robertson and Mark Robertson and his wife, Holly; grandchildren, Brian Troxel, Patti Reilly and her husband, Phillip, Tanya Hlavka and her husband, Joe, and Derek Troxel and his wife, Pamela; seven great-grandchildren: Bailey, Naomi, Alex, Travis, Allister and Alessia; two sisters, Viola Knight and Violet Gannett; one brother, Virgil Flath; three sisters-in-law; numerous nieces and nephews; five step-grandchildren and nine step-great-grandchildren.
She was preceded in death by her parents.
Viewing will be held on Friday, Jan. 29, from 2-6 p.m. at Spencer, Libby and Powell Funeral Home, 1100 Kelly Ave., The Dalles, and on Saturday, Jan. 30, from 10-11 a.m. at Faith Lutheran Church, 2810 W. 10th, The Dalles.
Funeral service will be held on Saturday, Jan. 30, at 11 a.m. at Faith Lutheran Church with Pastor John Westhafer officiating. Committal will be held at 2 p.m. at IOOF Threemile Cemetery with Spencer, Libby and Powell Funeral Home in care of arrangements.
Memorial contributions may be made to Hospice of the Gorge, 751 Myrtle St., The Dalles, OR 97058.