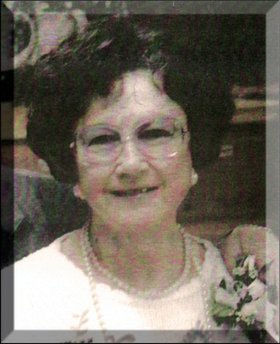 Gladys B. Marshall
June 6, 1924 - June 27, 2010
Gladys B. Marshall went home to be with the Lord on June 27, 2010. She was comforted by her children and grandchildren during the day of her passing. Although her elegance and beautiful smile will be missed every day here on Earth we know she is now in a place of complete bliss.
Gladys was born Feb. 18, 1924, in Circle, Mont., the daughter of Harry and Viola (May) Johnson, and grew up with four sisters. She graduated from Parkdale High School, where she met her true love, Donald M. Marshall.
She and Don married June 6, 1942. They had four children: Karren, Randy, Larry and Sherri. They spent many years in Mill City, Ore., where they owned a logging business, saw shop and a small farm. Gladys enjoyed keeping the books for the company.
They later moved to Wamic, Ore., where they owned and operated a cattle ranch and continued to raise their children. Although Don died at the early age of 58, she did not remarry but continued to live in Wamic on Pine Hollow Lake, where she enjoyed the beauty of the water, the many birds and the deer passing by her deck.
Gladys enjoyed the ocean very much and loved to spend time in Cannon Beach, Ore. It was hard to pull Don away from the ranch but she favored those times to dress up and enjoy some of the elegant experiences the city has to offer.
She also enjoyed stitchery, knitting, Bible study and scrap booking. Most of all she loved having her children and grandchildren spend time with her.
In her later years Gladys had many health issues but her elegance and youthfulness defied all that challenged her. She always said that two things got her through it: Her strong faith and a positive attitude.
She will be missed but never forgotten.
A graveside service was held at noon on Friday July 2, at Mountain View Cemetery in Hood River, Ore., with a reception following at the Best Western Hood River Inn, 1108 E. Marina Way.
Friends are invited to view photos, get directions and share memories in the family's online guest book at www.flintofts.com.