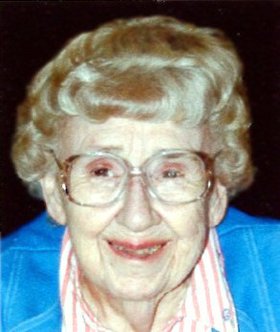 Jean Helen Gerke
March 15, 1922 - July 2, 2010
Jean Helen (Jones) Gerke, of Prineville, Ore., died on July 2, 2010, at the age of 88. Jean was born March 15, 1922, in Prineville, Ore., to Ivan A. and Clara Marie (Burgy) Jones. She graduated from Crook County High School in 1940, and on June 28, 1941, she married Lynn Frasier Gerke.
Jean enjoyed traveling, taking pictures, reading and collecting things. She loved the color red and had a huge collection of red glass and more than 100 red teddy bears.
She worked at the phone company in Prineville in the 1940s and was a plane spotter during World War II. She was an instructional assistant at the Ochoco Elementary and Prineville middle schools in the 1980s.
Jean was a member of St. Joseph's Catholic Church and was an active member of the Altar Society. She was in charge of many receptions and the annual Ham Dinner.
Her family was important to her and she was active in PTA and was a den leader for her son in Cub Scouts. She was her daughter's Blue Bird and Camp Fire leader.
Jean was a strong supporter of her husband's activities with the Prineville Elks and the March of Dimes. They celebrated 51 years of marriage, before he preceded her in death in September 1992.
She is survived by her son, Robin, and his wife, Maralee Gerke, of Madras; her daughter, Sheryl, and son-in-law, Rod Keizur, of Hood River; four grandchildren: Randy Keizur and his wife, Heather, of Hillsboro, Spencer Gerke and family Koko Sakakida and Parris Joyce, of Portland, Jill (Keizur) and her husband Josiah Szeremi, of Hood River, and Roger Gerke, of Bishop, Ca.
She had six great-grandchildren: Leah, Joshua and Anthony Keizur, Shantae' Thornton, Jayden Renee and Ian Lynn Szeremi.
Memorial contributions can be made to the St. Joseph's Catholic Church Altar Society.
Arrangements are under the direction of the Prineville Funeral Home.