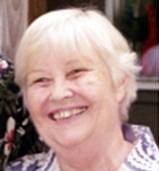 Nancy JoAnne Blann
July 28, 1932 - June 7, 2010
Nancy JoAnne Blann (Hague) born July 28, 1932, to Harold and Olga Hague passed away peacefully in her sleep on June 7, 2010.
She is survived by her husband, Edward; her children, Debbi, Steven, Terry and Pat; her daughters-in-law, Candy and Beth; her grandchildren, Adam, Sara, Katie, Jack, Chris and Kam; her sister, Judy Mosio; and numerous close relatives.
Nancy's father was in the Navy so she traveled around for the first few years of her life but finally the family settled in Hood River, Ore., where she spent most of her young life.
She left Hood River to attend college at Oregon State University in Corvallis, where she met Edward Blann, and they were married on May 4, 1952. The first few years of marriage were spent in central Oregon but they eventually moved to Washington and settled in Federal Way in 1958.
In 1964 she returned to college and received her LPN license. She went to work for Dr. David Hopkins in 1966, where she worked until her retirement in 1997.
She and Edward remained in Federal Way until late last year when they moved to a farm in the Eatonville area.
She will be missed by all who knew and loved her. A memorial service will be held at Fir Lane Memorial Park, Spanaway, Wash., on July 31 at 11 a.m.