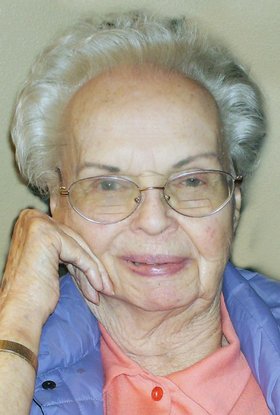 Martha "Jeanne" Jeanne Morse
July 21, 1920 - July 10, 2010
Martha Jeanne Morse, of Hood River, Ore., passed away, July 10, 2010, just shy of her 90th birthday. She was born July 21, 1920, in Cleveland, Ohio, to Warren Kellogg and Helen Elizabeth (McAndrew) Leunn. She had four sisters, Helen, Mary Frances, Marilyn, Nita and a brother, Warren, who all preceded her in death.
At age 10, her family moved to California for a year and then moved to the Northwest. She remembers coming across country in her father's Packard car. She grew up in the Vancouver, Wash., area.
She met Harry Morse in the sixth grade and his brother, "Jack" H.C. Morse. Jeanne sang in a high school band with Harry Morse and he played the guitar, sang and told jokes.
She graduated with honors from East Hill Plain High School in 1938, was editor of the yearbook, Wauna, and in the senior class play. She took business classes, and later worked at the Crown Zellerbach Company, the Camas Public Library and the Washington State College (now WSU) Extension service.
Jeanne married Jack Morse in January, 1942. They lived in Pullman, Wash., where he attended veterinary school after his World War II service. They moved to Hood River, Ore., in 1949. She enjoyed the view of Mount Adams from their Hood River home, and would remark "What is my mountain doing today?" She liked the change of seasons. Fall was her favorite season, and she talked about the fall colors and the fireflies that she remembered from her childhood in Ohio.
Jeanne Morse was active in the Hood River community. She was a member of the Riverside Community Church since 1957. She had been a Guild member, served as Guild president and on the Church Council, taught Sunday school and helped with FISH food bank. She volunteered at the American Red Cross and was a life-long blood donor. She and Jack had been active in the Elks Club.
After Jack retired they enjoyed feeding and watching migrating birds, traveling and visiting family and friends. She was very attached to family pets, and missed having a dog after their last dog, Gracie, a Brittany spaniel, passed on.
Jeanne's compassion and caring will be missed. She had a wonderful smile, and always wanted to find out what you were doing and how your family was.
She is survived by her husband of 68 years, Jack Morse; four daughters (Patty, Molly, Marty and Kelly), three grandsons: (Joshua, Gabriel and Matthew), six nieces (Barbara, Kathleen, Rosemary, Linda, Theresa, and Janice) and five nephews (William, Herb, Warren, Francis and Glen). She is also survived by three nieces on Jack's side of the family (Linda, Florence and Gail).
A memorial service will be announced at a later date. The family requests that donations be made in Jeanne's honor to the Riverside Community Church, American Cancer Society, American Red Cross or a charity of your choice.
Arrangements are under the direction of Anderson's Tribute Center (Funerals, Receptions, Cremations), 1401 Belmont Ave., Hood River, OR 97031; 541-386-1000. Please visit www.andersonstributecenter.com to leave a note of condolence for family.