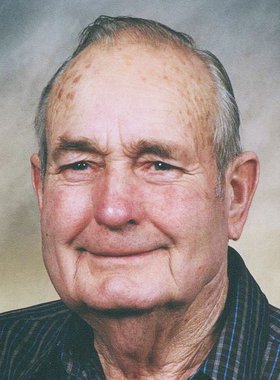 MC Smith
February 8, 1925 - July 8, 2010
MC Smith, of Parkdale, Ore., passed peacefully to his eternal home July 8, 2010. He was born Feb. 8, 1925, in Blair, Okla., to Mildred Dollins Smith and Allie Lee Smith. He had one sister, Irene Owens, and two brothers, Hollis and Bob. Only Bob survives him.
When MC was 12 he moved with his family to Canon City, Colo., in hopes of finding work. After working for farmers a couple of years he began working a split shift in a dairy. This job had the benefits of a house for the family, all the milk they could drink and wages for MC This job was truly a Godsend for the family.
MC started with very little. At 7 he was fatherless and in the middle of the Depression he found himself at 13 the primary provider for the family. With remarkable persistence, intelligence and sense of self-worth he built upon that humble beginning to bring his family to a place where we could grow and excel at the things we do.
At the age of 18, MC joined the army and was assigned to the 1301st Engineers General Service Regiment. His first job in the military was to help build a field hospital in England. He was then sent to France and landed on Utah Beach two days after the Normandy Invasion (D-Day). Because the initial landing party had secured the beaches his group was able to land with only minor casualties.
MC's granddaughter, Rachel Smith, wrote a school report about his service. She asked, "What were your jobs?" MC said, "We built roads and bridges so the men on the equipment could get across rivers. If we couldn't build a bridge we set up motorboats and ferries.
"We also removed mines so men wouldn't be hurt. We demolished supplies and stores that the enemy could use if we had to retreat."
He was awarded the Soldier's Medal for rescuing a fellow soldier from the icy waters of the river they were crossing.
When MC returned from Europe he worked for the Portland Cement Company, and as a machinist in a shop in Denver, Colo. When he started working in heavy and highway construction he found he really liked the challenges it presented. He was a builder and enjoyed planning how to make his vision of a project actually become a reality.
During his career, MC contracted to build many highway bridges and other structures for the Colorado Highway Department. His Colorado Bridge Company best describes his work during this era.
During these years in Colorado he also thoroughly enjoyed fishing and exploring for the small mountains streams with his beloved wife and sons. We also had wonderful trips up into the snowy Rockies, and in the nights the boys would encourage their dad to tell them stories of his experiences in the Second World War. These adventure trips will be cherished for as long as we live.
After 30 years in construction he decided to "retire" and bought an orchard in Oregon in 1976. He turned his vision to developing the orchard. It started as an old, nearly abandoned property and became an award-winning productive pear orchard, located in the upper Hood River's beautiful valley. With the help of his family he built a home, a shop and a bunkhouse in the orchard.
He married a teacher, Florence Dawn Irving, June 20, 1960, in a beautiful chapel in Colorado Springs, Colo. They were blessed with two sons, Mark Cameron and Dean Irving. Mark married Cynthia Robin Best and they gave us a beautiful granddaughter, Rachel Maria Smith. Dean married Eunice Kemp; and MC has three nephews, Jeffrey, Joel and Larry; a niece, Juliene Vita; and many cousins.
He was a charitable man and was happy when friends and relatives came to visit. Visitors always left with a box of fruit and an invitation to return.
There was a celebration of MC's life for the immediate family at the Wynwood Chapel on Sunday, July 11.
Arrangements are under the direction of Anderson's Tribute Center (Funerals, Receptions, Cremations), 1401 Belmont Ave., Hood River, OR 97031; 541-386-1000. Please visit www.andersonstributecenter.com to leave a note of condolence for family.