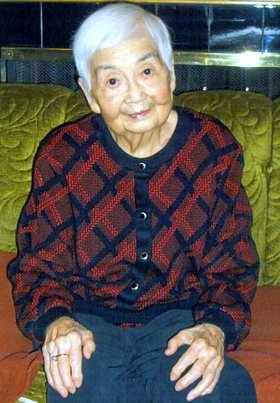 Misako Dorothy Takasumi
September 5, 1916 - May 26, 2010
Misako Takasumi, of Hood River, Ore., passed away at her home on May 26, 2010. Born Misako Dorothy Shigihara Sept. 5, 1916, in Seattle, Wash., she spent 70 of her 93 years in her beloved Hood River Valley with a brief interlude in Japan and three years in internment camps in California and Idaho during World War II.
Misako's life journey reads much like an epic novel. It is the story of a woman with an enthusiasm for everyday activities, and the discovery of something new each and every day.
Whether cleaning the palatial Stewart home built high on Queen Ann Hill, or tending children fascinated with her Asian characteristics, Misako viewed these moments as opportunities to learn from other cultures, lifestyles and beliefs. She never yearned for wealth or material possessions; only for knowledge that exposure to different people might provide and the joy that her friendship and service brought to others.
Misako's mother, Ichi Kashiwagi Shigihara, was a seamstress who worked long hours in an uncle's tailor shop in the bustling port of Seattle. She created handsome men's suits and fashionable gowns for wealthy patrons as well as everyday clothes for her own children. Misako's father, Buro Shigihara, was a coal carrier, small in stature, but exceptionally strong from pulling carts of coal up and down the steep Seattle hills.
After finishing high school, Misako traveled to Japan to stay with an aunt, supposedly to learn formal Japanese. Misako enjoyed the time working in her aunt's china shop and getting to know her cousins, but when she discovered her mother wanted to find a suitable husband for her in this "foreign" country she bought a boat ticket home as quickly as possible.
Upon her return she was introduced to a family friend named Mitsuo Takasumi. Mr. Takasumi claimed he was in the area for "business" but in reality he had matrimony on his mind. Being naïve in the ways of courtship, Misako thought her job was to introduce this gentleman to her friends and some of Seattle's sites, never considering she was the main attraction.
Misako was drawn to Mits' easy laughter, charming smile and kindness toward others. In August of 1940 they married and Misako moved to the Takasumi farm in Odell.
Marriage brought many opportunities for new lessons in life, one of which was sharing a home with your husband's parents and several younger siblings. Although a city woman at heart, she was willing to learn more about orchard work, climbing ladders, picking fruit, and watering the row crops beneath the trees.
Given her homemaking talents, Misako was glad that they were recognized sooner rather than later, when the family asked her to cook for the family and farmhands. Misako said working in the heat of summer, atop a 30-foot cherry ladder made her appreciate having her two feet on the floor in front of a hot wood stove.
In 1941 Mits and Misako were blessed with a son, Norman, and family life seemed to be progressing normally until the bombing of Pearl Harbor turned their lives upside down. In May of 1942 they, along with a thousand other Hood River residents of Japanese ancestry, were forced into internment camps in California, Idaho, Montano and Wyoming. Misako felt they were more fortunate than many other Japanese families, given the careful tending of their farm and property by Mr. and Mrs. Jalo Hill.
Internment was difficult. Misako recalled the fear of the long train ride, blinds darkening the train cars, armed soldiers at each end, and the terrible apprehension of not knowing where they were being taken. The first three months were spent in Pinedale, Calif., the heat soaring above 120 degrees.
She spoke of cowering beneath a burlap mattress filled with manure-laden straw, Norman in her arms, trying to escape the searing hot tar droplets that fell from the makeshift roof covering the stalls in which they lived. They were transferred to Tule Lake, then Minidoka and eventually released to work on a farm in Payette, Idaho.
Anxious to start life anew, the family, including Mits' mother and father, returned to Hood River in 1945 with Norman and a new son, Gerry. They were faced with acts of prejudice that Misako found hard to comprehend, but she found solace in the friendship of the Hills. Over time, she and Mits won back the friendship of many neighbors through their good nature and service to others.
Carol joined the family in 1948 and Marsha in 1950. Misako supported her children by volunteering at their schools and serving as a 4-H leader in sewing and cooking clubs. The family participated in the Japanese American Citizens League social activities including summer picnics, and Christmas and New Year's celebrations.
Misako was an active member of the Methodist Church in Odell, although raised a Baptist. She said it was never the church that made someone a Christian; it was the feeling they had in their heart for their fellow man, and how they acted on those feelings.
In 1964 Misako's life was shattered by the death of her son Norman at the age of 21. Misako persevered, finding comfort in her faith and family. She taught Bible school, arranged church outings and bazaars.
Misako was famous for her salad dressing, lemon meringue pies, Japanese-style chow mein and maki sushi. She taught many Hakujin to love Japanese food, urging them to try some of her exotic-looking dishes, and winning them over, "through their taste buds to their stomach and back up to their hearts." Misako delighted in making friends in this unique manner.
Misako served as a compassionate caretaker for her in-laws throughout their lives. Caring for others was not considered a burden, but a gift. It was a gift her daughters shared, compassionately caring for their mother on her lengthy journey to life's final chapter.
She will be missed by her sister, Michi Fukano, of Seattle, children: Gerry of Denver, Colo., Carol and John Annala, of Hood River, and Marsha and Russ Ishii, of Salem; and granddaughter Natalee Takasumi and her husband, Kendan Anderson, of Denver.
Misako's circle of friends spanned five generations. From Mary Migaki, Lil Nishimoto, H. Tamura and Chiyoko Watanabe, sister Michi and sister-in-law Mitsie Takasumi, to her children's generation, Gerry, Carol and Marsha and their friends, Vista, Marilyn, Lynnda, Maureen, Dana and Maija. That circle expanded to include their children, and grandchildren, nieces and nephews.
Misako's friendship was like an embrace that formed an eternal bond. She loved the innocence of children and delighted in visits from Kendra and Aunika and little Cooper Yasui. Misako adored her cat, Lucky, and the hundreds of birds and squirrels she fed daily.
She understood politics, and social justice, history and its relationship to the future. She was moved to tears when a black man was elected President of the United States and health care was granted to all. She reveled in a good joke and found an inner peace in some of life's darker moments.
She greatly appreciated the tender care she received from Clyde, Eve, Bobbi and Karen from Heart of Hospice and Sandy from Hearts of Gold Caregivers.
Misako was a beautiful woman, in body, mind and spirit. That spirit will live on within the memories of family and generations of friends she made in her 93 years. As Michael Roemer eloquently said, "You can't learn to die as though it were a skill. People die in the way they lived. Death becomes the expression of everything you are, and you can bring to it only what you have brought to your life."
Misako was as beautiful in death as she was in life. A celebration of her life will be held on Sunday, July 25, at 4:30 p.m. at the Mt. Hood Winery in Pine Grove. Memorials in Misako's memory may be made to Heart of Hospice Foundation or Pine Grove/Odell United Methodist Church in care of Anderson's Tribute Center.
Please visit www.andersonstributecenter.com to leave a note for family.