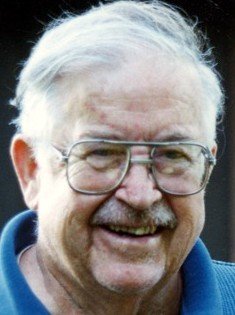 Edward Filmore Crippen
November 9, 1921 - November 13, 2009
A child of the Depression, veteran of World War II and a member of the "Greatest Generation," in the truest sense, Edward Filmore Crippen, M.D., passed away in Ann Arbor, Mich., Nov. 13, 2009, in the company of his beloved family and friends.
He was born Nov. 9, 1921, in Lansing, Mich., the second child of Margaret Jane (Aldrich) and Glenn Lawrence Crippen. He graduated from high school in 1939 in Lansing, Mich. He attended Michigan State University and graduated with a Bachelor of Science in chemistry in 1943.
He was inducted into the U.S. Army (anti-aircraft artillery) and served in World War II (Philippine Islands) and was honorably discharged in 1946. (He later achieved lieutenant colonel status in the USAR-MC Active Reserve in 1975.)
In 1946, he entered medical school at the University of Michigan and graduated with a Doctor of Medicine in June 1950. One summer, during his studies, he met his wife-to-be, Kathryn Mae Simmons, in Mackinaw City. In Ann Arbor, Mich., on June 19, 1948, they married.
He did his medical internship at Butterworth Hospital in Grand Rapids, Mich. He began private practice in Mancelona, Mich., in 1951. Besides his regular office hours he made many house calls — practicing medicine as a typical small-town doctor of that time.
From 1960-61 he returned to the University of Michigan to study public health. He received his M.P.H. and entered the field of international health. (He had specializations in international primary care programs, geriatrics, preventive medicine and international health, and was board certified in preventive medicine and family practice.)
Shortly after graduating he went to work for the U.S. State Department and was assigned to be co-director of public health in Cap Haitien, Haiti, from 1961-62.
In 1962, he was reassigned to the U.S. Agency for International Development and, from 1963-64, he served as chief of the public health division to the country of Nepal. While there he identified a smallpox outbreak and, through his efforts, averted a major epidemic.
Returning to the U.S., he served as mobile county health officer in Mobile, Ala. In 1967 he accepted a position as deputy commissioner of health for the City of Detroit. He then took a position as state health officer for the State of Nevada.
Next he moved his family to Los Angeles to serve as western regional medical director for Gulf Oil Corporation. Later, desiring a simpler life, he established a family practice in St. Helens, Ore. Shortly thereafter he bought his beloved apple and pear orchard in the Hood River Valley.
Hood River became a home base for his medical/public health consultant work while traveling the U.S. and the world: Togo, Africa; Korea; Morocco; U.S. NOAA Research Ship; Comoros Islands; Israel and Haiti. He made many, many friends.
He retired back to Mancelona, Mich. He was a proud member of the Descendents of the Mayflower Society of Michigan with roots tracing back to Mayflower passengers Edward Fuller and Myles Standish.
He was preceded in death by his parents and his oldest brother, Frank.
He is survived by his devoted wife, Cassie (Kathryn); his siblings, Frederick Crippen, of California, and Jeanne Donahue, of Michigan; his children, Janie Knieper, of Michigan, Edward Crippen, of Oregon, Frederick Crippen, of Washington, Joel Crippen, of Florida, Ember Diez, of California, and John Crippen, of Washington; and their loving spouses and children, cousins and many dear and close friends.
He has been cremated and a memorial service and military burial has taken place in July 2010. A memorial website will be available at http://www.niefuneralhomes.com where notes can be left in his memory.
In lieu of flowers he would have wanted donations made to the Mancelona Historical Society, P.O. Box 103, Mancelona, MI 49659; the Veterans Administration Ann Arbor Healthcare System, 2215 Fuller Road, Ann Arbor, MI 48105 or the United Methodist Church, Mancelona, MI 49659.