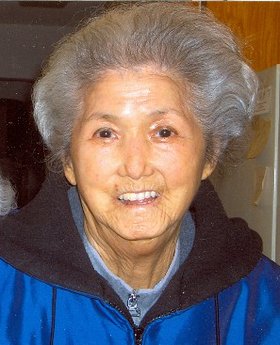 Lilly C. Nishimoto
April 4, 1925 - May 28, 2010
Longtime Hood River resident Lilly C. Nishimoto died May 28, 2010, in her home surrounded by loved ones. Lilly was born April 4, 1925, in Kirkland, Wash., to Kakusaburo and Koto Morioka. She was raised in Bellevue, Wash., until the family was sent to a relocation camp in Pinedale, Calif., where she met her future husband, Koe.
When Koe returned from two years' overseas duty in the military, they were married and made their home on the family orchard in Hood River.
Lilly traveled extensively with her husband while he was in the VFW and made many happy trips with friends. She was active in 4-H for 10 years and was a Cub Scout leader, an active member of the VFW Auxiliary and a J.A.C.L member.
She will be dearly missed by her children, Gale Gronso and her husband, Mark, Rick Nishimoto and his wife, Kathy, and Kathy Boettcher and her fiancé, Steve Peterson; her sister, Mae Morioka; brother-in-law Tim Nishimoto and his wife, Janis; grandchildren Dale Gronso, Dusty Gronso and his wife Kate, Karl Hoch, Bryan Nishimoto, Jeffrey Nishimoto, Alex Boettcher and Jillian Boettcher; plus numerous nieces and nephews, and many other relatives.
Lilly was preceded in death by her husband, Koe, her parents, a sister and three brothers.
Viewing will be Thursday, June 3, from 1-7 p.m. at Anderson's Tribute Center with a special time for friends to visit with family from 5-7 p.m.
A memorial service will be held Sunday, June 6, at 1 p.m. at Anderson's Tribute Center.
Remembrances may be made to Odell Methodist Church, Pine Grove or Odell fire departments or the Heart of Hospice in care of Anderson's Tribute Center.