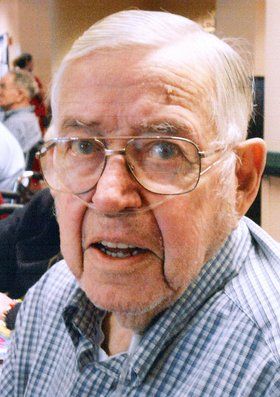 Robert "Bob" De Tar
December 14, 1921 - June 7, 2010
Robert "Bob" De Tar, of Hood River, Ore., passed away on June 7, 2010, at the Oregon Veterans Home in The Dalles. He was born in Wellsville, Kansas, on Dec. 14, 1921, the second son of Carl and Edith De Tar.
Bob was an excellent student but his opportunity for higher education was cut short by the advent of World War II. He enlisted in the Army in 1940 and trained with the 168th Field Artillery of the Colorado National Guard.
After Pearl Harbor, the unit was transferred to the California coast. While there, Bob met the love of his life and his eventual wife, Shirley Streeter.
Bob transferred to the Army Air Corps and flew 30 combat missions over Europe in a B-24 with the 389th Bomb Group. He was awarded the Distinguished Flying Cross and the Air Medal for his service.
After the war he returned to California an settled down with his bride in the San Francisco Bay area to raise their family.
When Shirley passed on Bob moved to Hood River to be closer to his two sons and their wives: Robert and Laurel and Richard and Shatoiya. In 2006 he moved to Down Manor in Hood River, where he enjoyed many great new friends while participating in table games and tours of northern Oregon.
Most of his life Bob worked in the newspaper business. As a young man he loved camping and fishing and he grew to love golf. He was a gentle soul; honest, open-minded and fair. He will be missed by many.