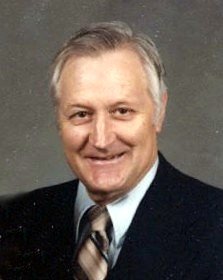 Royce Martin Roberts
June 10, 1923 - June 11, 2010
Royce Roberts, of Parkdale, Ore., passed away at his home with family by his side on June 11, 2010, and just turned 87.
Services are planned for 11 a.m. Friday, June 18, at the Hood River Church of Jesus Christ of Latter-Day Saints, 1825 May St. Viewing is scheduled an hour before at the church. Graveside rites with military honors will follow at Idlewilde Cemetery.
On June 10, 1923, Royce Martin Roberts was born in Sixes, Ore., to Edward Earl and Mabel (Snodgrass) Roberts. After a few moves they finally made a houseboat in Toledo, Ore., until he was 5½; at that time the family took positions of one of the last land grants offered by the government.
This homestead was 350 acres of solid old-growth forest, high in the Coastal Range. They cleared quite a bit of the land; the wood was used for various things and Royce helping, of course.
There was a one-room cabin with no amenities. It took a while to enlarge the cabin, build a barn, woodshed, chicken house, smokehouse and butcher shed. One side of a gas motor was used for a grinder and the other side operated the clothes washer. It wasn't long until they had running water in the cabin. The Roberts family lived a genuine pioneer life.
Shade was an enemy of growing a garden and growing pasture for the cow and horse. They never bought much from the store, as they raised so much in the garden. They had three garden areas where they raised all their own vegetables. Fruit was gleaned from of neighboring orchards.
His mom and dad were health-conscious and were diligent to provide healthy things to eat. Royce was involved with 4-H for gardening, but he was unable to go to the club meetings. However; he did attend the fair in Corvallis, which he walked to and camped out under a tree until the fair was over. It wasn't uncommon for him to walk 30 miles in a day.
They fished a lot and hunted deer as needed. They sold bull calves at a meat market in Monroe, Ore. When they went to town they usually took the horse and buggy, sometimes they would walk.
When the children graduated from the local grade school they would leave home to go to high school. Royce went to high school in Shedd, Ore. He lived on a farm, milking cows and doing a lot of other chores for room and board. He worked at other farms to earn money for school doing various farm chores when he completed the work assignment at the first farm. He received a dollar a day and room and board.
Royce was very shy; he would go out in the woods when there was company and stay there until they left, unless he knew the visitor. A friend named Wesley would come and visit at times; Royce met him at the Shedd high school.
Wesley had a sister named Phyllis; she and Royce were the same age and sometimes we would go out together. After high school Phyllis and Royce were married and they had five children.
During the first year of his marriage he was drafted into the United States Navy and served in the South Pacific Arena; during this time his first daughter, Gail, was born.
When he was discharged they lived in various places in Oregon and then in Sequim, Wash. They divorced and Royce after a time returned to the old family homestead, the home of his childhood.
Royce met Patricia Case Leedham and her son Phillip in 1974 at a church meeting and they were married four months later on Dec. 31. Royce later adopted Phillip. They made their first home on a girls recreational camp in Alpine, Ore., where they had no electricity or running water. This home was destroyed by fire.
They moved to Parkdale, Ore., and purchased a 10-acre farm. One of Royce's great passions was inseminating cattle. He knew the calf that would be born would be of high quality. Many of the 4-H and FFA club members took first place with those calves at the fair.
The artificially inseminated calves provided money for many of the club members to attend college.
Royce spent many years pursuing farming, cattle ranching and simply enjoying the Hood River Valley and their beautiful view of Mount Hood. During this time they had the joy of raising their niece, Raena Harris.
Royce is survived by his wife, Patricia Roberts; five children: Gail Schrader, of Tallahassee Fla., Thomas Roberts, of Monroe, Wash., LeAnna Tanner, of Port Angeles, Wash., Collin Roberts, of Salem, Ore., and Sue Jane Jacobsen, of Colorado; 14 grandchildren (11 boys and three girls); and 15 great-grandchildren (14 boys and one girl).
In addition to his parents he was preceded in death by his son, Phillip Roberts.
Arrangements are under the direction of Anderson's Tribute Center (Funerals, Receptions, Cremations), 1401 Belmont Ave., Hood River, OR 97031; 541-386-1000. Please visit www.andersonstributecenter.com to leave a note of condolence for family.