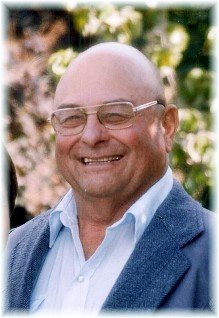 Grant Edward Wilson
February 28, 1936 - June 21, 2010
Longtime Mosier, Ore, resident Grant Edward Wilson passed away at his home on June 21, 2010.
Grant was the oldest child born Feb. 28, 1936, to Harry and Fern Wilson of Mosier and was raised and educated in Mosier. Grant graduated from Mosier High School in 1955. For a short time after high school he attended Oregon Institute of Technology.
A call came from home that Grant was needed on the farm so he returned and spent his life, farming, working construction, truck driving, mechanizing and solving problems with something he had created. From the age of 11 following the death of his dad, he farmed cherries, pears and apples with his brother, Mark. They grew their farm to more than 250 acres of fruit production.
Grant's relaxation was spent going to town to shop for farm parts, visiting with friends about farming and having lunch. Grant enjoyed history and watched the History Channel and the Travel Channel on TV. He loved World War II history and was passionate about reading, helping family and friends, and was proud of his daughter, Gail and son, Gary. Grant viewed life as a gift and every day was Christmas.
For over 50 years Grant grew and delivered cherries to The Dalles – Oregon Cherry Growers. He was a member of The Dalles Cherry Growers, Oregon State Cherry Commission, Wasco County Soil and Conservation District and the Hood River Supply Associations Board of Directors for more than 20 years.
He belonged to the Hood River Elks and was a 50-plus-year member of the Mosier Grange and has served on numerous other boards over the years. Grant was very proud of his involvement in agriculture and the community in which he lived.
In 2008, Grant and Donita were chosen King Bing and Queen Anne for The Dalles Cherry Festival.
Grant's community involvement was spent working at the Mosier Cemetery, building the parking lot south of Mosier School. When Grant was called upon he was always there to lend a helping hand.
Grant is survived by and will be dearly missed by his wife, Donita Huskey-Wilson, of Mosier; daughter, Gail Webb and her husband, Jim, of Wasco, Ore.; son, Gary Wilson, and his wife, Nicole, of The Dalles, Ore.; two grandsons, Ryan and Sam, of The Dalles; sister-in-law, Marilyn Wilson, of Hood River, Ore.; cousin, Marjorie Gove, of Mosier; several nieces, nephews, great-nieces, great-nephews, extended family including in-laws, Delbert and Elaine Huskey and the entire Huskey family, and many, many friends.
Grant was preceded in death by his parents, brother, Mark; nephew, Brian, and mother of his two children, Roberta Lyons Wilson.
Services will be held 11 a.m., June 26, at Anderson's Tribute Center (1401 Belmont Ave., Hood River, OR 97031) with burial to follow at the Mosier Cemetery. A luncheon will follow at the Mosier Legion Hall due the remodeling of the Mosier Grange Hall.
Donations may be made to the Mosier Grange of the Mosier Legion in honor of Grant Edward Wilson and sent in care of Anderson's Tribute Center. Please visit www.andersonstributecenter.com to leave a note of condolence for family.