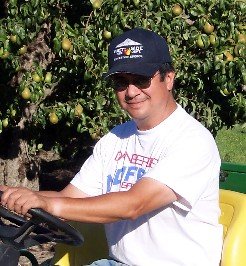 Kenneth Tamura
March 10, 1954 - February 27, 2010
Kenneth Tamura was born in Hood River, Ore., on March 10, 1954, to George and Hisako Tamura. On Saturday, Feb. 27, 2010, he joined his father, George, and his Aunt Alice to continue to care for them as he had always done.
One of Ken's greatest joys was caring for and loving his family and friends. He listed among his greatest joys his children: Trista, Trevor and new son-in-law, Greg.
Ken leaves behind a long legacy of community service, starting with Cub Scouting to the highest honor as an Eagle Scout and ending with his EMT-B certification for the West Side Volunteer Fire.
Ken met his wife, Nancy, at Oregon College of Education in 1974. They married in Brookings, Ore., on March 10, 1979, and celebrated 30 years of marriage in 2009.
Ken returned to the Hood River Valley and farmed his father and mother's orchard in Parkdale until 2005. In 2005, he traded the Parkdale orchard for an orchard in town named after his Aunt Alice on Orchard Road in Hood River. At Alice's Orchard and Fruit Stand he established a reputation for his warm and gracious welcome to U-pick a wide variety of fruit to customers from coast to coast.
In addition to maintaining and operating his orchard business, Ken found excitement in watching the University of Oregon Ducks. He and daughter, Trista, always ended their phone conversations with LOVE YOU; GO DUCKS! As son Trevor is a Beaver alumnus, Ken loyally supported both Oregon teams and rooted enthusiastically for both.
Ken is survived by his wife, Nancy; daughter Trista and her husband, Greg Guenther, of Tucson, Ariz.; son Trevor, of Portland, Ore.; mother Hisako, of Odell, Ore.; sister Patty Gilkerson, of Hood River; mother- and-father-in-law, Don and Faywray Ritz; sisters-in-law Jana Ritz and Linda Thomas and brother-in-law Randy Ritz, all of Brookings, Ore.; along with nieces Nicola, Amy, Rita and Raemi and nephews Ian, Ryan, Jeremy, Justin, Michael and Josh.
The family asks that instead of sending food or flowers please donate to either the West Side Fire Department or to the Ken Tamura Critical Care Fund through Providence Hood River Memorial Hospital Foundation. Donations can also be dropped off at Anderson's Tribute Center or at the door of either the school preceding the service or at the church. The Critical Care fund will be to assist EMTs with grief counseling and has been established in Ken's honor.
A celebration of Ken's life will be held at 4:30 p.m. Saturday, March 6, at the Hood River Middle School Auditorium, 1602 May St. Viewing hours are Wednesday, March 3, and Thursday, March 4, from 9 a.m. to 5 p.m. at Anderson's Tribute Center, with a special time for friends to visit with family on Thursday evening from 5-7 p.m.
Arrangements are under the direction of Anderson's Tribute Center, 1401 Belmont Ave., Hood River, OR 97031; 541-386-1000. Updated information will also be placed on Ken's page on Caring Bridge. Visit www.andersonstributecenter.com to leave a condolence for his family.