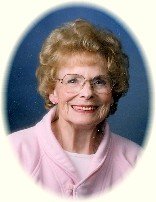 Jean Mildred Murray
September 29, 1923 - February 19, 2010
Jean Mildred Perrier-Adams-Murray died Feb. 19, 2010, in San Diego, Calif. Jean was born on Sept. 29, 1923, in the Washington town of McClary. She lived there with her mother, Bessie, and father, August (Gus) Perrier.
Her parents moved to Hood River, Ore., sometime in the late 1930s. They owned and operated the Paradise Gas and Grocery and the Paradise Motel, located on the corner of 13th and Oak streets for many years. Hood River was Jean's hometown, where she grew up and graduated from Hood River High School.
The Paradise Motel had a very interesting attraction for not only the young children but all the population of the small community. Located in the middle of the large parking lot in the back of the cottages was a huge pond. Gus would place baby sturgeon in the pond and the children would love to come and see the monsters swimming around.
August also had another piece of history that he built down over the hill. Next to the Perrier Gas and Grocery was a handmade windmill that caught the stream coming off of the pond and it stood there for many years.
Bessie worked the business and Jean would clean the motel rooms with her younger brother, Eugene Raymond Perrier. August was the carpenter and could fix anything.
Music was always a center point in their lives and Jean followed her mother's talent playing the piano. She continued her love of music for all the years to come.
Jean was a member of the Hood River High School band, playing the alto saxophone. She was also the first head majorette for Hood River High and performed with the band at halftimes and parades. She still had her baton today.
She dated George Selder Adams, who was the boy next door — literally. He lived just down State Street. George's parents also ran a business that was located on the corner of 13th and State streets, Hood River Laundry.
George's parents, Freda and Art Adams, built the building and established the business. George and his folks ran the operation which began in the early years when the roads were only dirt, using a canvas-covered, horse-drawn wagon to pick up and deliver the laundry to their customers. The Hood River Laundry was an historical site and the building still sits there today.
George and Jean were married on Feb. 22, 1944, and soon after George was called into the U.S. Army Air Corps during World War II. So off they went to Madison, Wis., where he was stationed.
During this time their firstborn came into the world: Barbara Jean was born on Jan. 16, 1945. Soon after Barbara's birth, George's father passed away and the service allowed him to return to Hood River to take care of the family business. So they packed up and returned once more to Hood River.
Jean was busy raising her toddler when her next two children arrived: Peggy Louise on June 29, 1947, and Donald George, on May 1, 1952.
The memories of childhood were always very good. Life was an adventure. Never a dull moment. We all worked together either at the laundry or at home and thought it was nothing but normal. We worked as a team and it was always Work First; Play Second.
Jean was the one who planned all of the family entertainment. We loved the trips to the Oregon Coast and the campouts at Lost Lake and many others.
We particularly liked Green Point Reservoir where we would go for a weekend outing. Donald would always find an orange-and-brown "water dog" to bring home for his pet. Mom and Dad built many beautiful memories during those family campouts.
Although we all worked hard, we were well rewarded with great family fun and play. Jean and George were wonderful parents and taught us much. They always made us feel safe and protected and loved unconditionally.
Jean continued her love of music and encouraged her children to be educated in song, dance, baton twirling and piano. She was active in her choir and later competed in the Sweet Adelines choir conducted by her best friend, Mary Mauroni.
She was a Life Member of Soroptimist and belonged to Beta Sigma Phi Sorority. She truly enjoyed the friends she made during years of membership and even to her death.
As a grandma, Jean had a tremendous influence on her grandchildren throughout the years. She taught Felisa, Michelle, Quinn, Daniel, Melonie, Chris, Paul, David and Luke how to set a table and proper etiquette.
The grandsons were side-by-side with their grandfather George, who taught them fishing and many other skills. The memories from the now-grown children are very precious.
Since these nine grandchildren, Jean was Great-Grandma for 14 great-grandchildren: Renae, Mickinzie, Payton, Haley, Cody, Ashley, Tristan, Noah, Aidan, David, Michael, Matthew, Toby and Faith, plus one great-great-granddaughter, Kayla.
One of the most common things you would hear about Jean was "Oh, what a beautiful smile she has," and she always loved dressing up with all the right clothes and accessories. Always looking well-groomed was an understatement.
The family business closed in the 1970s, and George and Jean were off on another adventure. George went to work at the Hood River Memorial Hospital as an engineer and Jean worked for Diamond Fruit in the human resources department. They both retired from these positions.
George passed away on May 12, 1993, and went home to be with Jesus. Jean remained at the West Sherman home and later married Elmer Wellington Murray on March 26, 1994. Jean followed Elmer to his Central Oregon home in LaPine. She had never been out of Hood River and this was a definite change for her.
Shortly after moving they decided to move back to Hood River and relocated on West Eugene Street after trying a home out in the valley. They had many happy years together and on Nov. 20, 2005, Elmer passed away and also went home to be with Jesus.
Jean remained at the family home, but started to have some health issues. Peggy moved her to San Diego, Calif., since Jean and Elmer designated Peggy as trustee.
Jean overnight became an official "Californian" after 82 years in her favorite hometown of Hood River, Ore. She aced her California driver's written test and drove in the traffic like an expert for two of her four years in San Diego.
Jean brought joy to her friends at San Diego First Assembly of God church and frequently received compliments on her beautiful smile and warm personality.
Her health continued to be a challenge and after several heart complications she succumbed on Friday, Feb. 19, 2010, in San Diego, Calif., and went peacefully home to be with Jesus.
She was a strong woman and managed to stay alive until her son Donald and oldest daughter, Barbara, arrived by plane to see her in ICU. She is now reunited with her loved ones in heaven and the fact that all her children and grandchildren were present when she said goodbye was just how she wanted it! She loved her children.
Jean's impact on those she touched in her blessed life will never be forgotten. The many friends, large families, and even those she touched with her musical talent will always be a fond memory in their hearts.
The moral of this beautiful story is "Keep Smiling," whether it is good or bad, and know that where your roots are is where your heart is also — as was Jean's heart — Jesus Christ and Hood River, Ore.
God Bless you, Jean — we will see you soon — We love you!
A service to honor Jean was held March 1 at Anderson's Tribute Center. Graveside rites followed at Willamette National Cemetery in Portland.
Arrangements are under the direction of Anderson's Tribute Center (Funerals, Receptions, Cremations), 1401 Belmont Ave., Hood River, OR 97031; 541-386-1000. Please visit www.andersonstributecenter.com to leave a condolence note for the family.