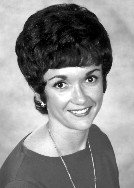 Denise Jeannette Berty
September 22, 1939 - March 2, 2010
Denise Berty, 70, of Hood River, Ore., passed away peacefully on Tuesday, March 2, 2010, at Providence Hospital in Portland, Ore., with family by her side.
The Berty family would like to offer special thanks to the compassionate and caring staff at Providence for the kindness they displayed to both Denise and the family during this difficult time.
A celebration of life will be held at her home at 1119 Eighth St., Hood River, between 1 and 5 p.m. March 20. Friends and acquaintances are encouraged to stop by at their convenience and celebrate their friendships and memories of this special person. The atmosphere will be causal, friendly and upbeat, as Denise would have liked.
Denise Jeannette Aldax was born in Carson City, Nev., on Sept. 22, 1939. Her French-Basque grandfather, Jean-Pierre Aldax, immigrated to the Carson Valley/South Tahoe area and worked for a local cattle company which later provided him with the land to start a sheep-herding ranch.
Denise's parents, Arnold and Louis Aldax, carried on with the growing ranch and Denise and her older brother, Paul, enjoyed life in the beautiful Carson Valley during their early years.
As a result of family tragedies, Denise's parents and brother predeceased her and she was raised by Jim and Amy Darrough in Minden, Nev. After graduating from Douglas County High School, Denise attended a Catholic Preparatory school in San Rafael, Calif.
Following her graduation, Denise enrolled at Stephen's College in Columbia, Mo., where she first met her future husband, Milton Berty, at a local fraternity party. The two hit it off immediately and were married in 1960. Later that year, the couple relocated to Lodi, Calif., where they started to raise a family.
Milt's career had the young family on the move and Denise also spent time living in San Carlos and Cupertino, Calif., Arlington Heights, Ill., and then back to Palos Verdes, Calif.
The time spent in Palos Verdes was a special time for Denise and her family, with most of the family time spent together on the beach and playing in and around the nearby ocean. The family also lived in Westlake Village and Agoura, Calif., where Denise honed her culinary skills, much to the delight of he friends and family.
She was also an accomplished pianist, and shared her love of music with her children and friends.
As the years went by, Denise picked up work in retail sales, where she earned many sales awards from a major department store chain. Boundless energy even landed her a job with Princess Cruises, where she ran an on-board gift shop aboard the Pacific Princess. While aboard, Denise was able to travel and visit a variety of beautiful locations, which she fondly remembered and told many stories about.
Eventually, Denise was coaxed by her son, Paul, to relocate to the beautiful Hood River Valley in 1998, where she worked at Providence Hood River Memorial Hospital and Hawks Ridge Assisted Living Center prior to retiring.
Although her last years were spent in declining health, Denise never missed a beat and loved spending time with her close friends and family. In addition to cooking and entertaining she also loved crafting and glazing a wide variety of ceramics, along with knitting all forms of clothing accessories.
Above all else, Denise had a love of life and enduring sense of humor that was nothing short of inspirational to those who had the privilege of enjoying life with her. She will be dearly missed by all.
She is survived by her son, Paul Berty, and his wife, Jessica; son Christopher Berty, and granddaughter, Tiffany, along with her daughter, Paige, and husband, Bill.
Denise's ashes will be laid to rest next to her parents and brother in the family cemetery plot in Gardnerville, Nev., later this spring.