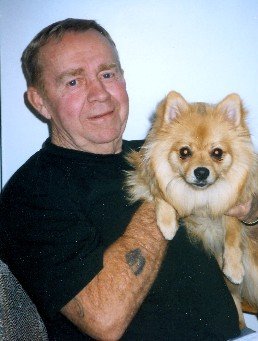 Stanley "Stan" Prinzing
April 10, 1935 - March 9, 2010
Stanley "Stan" Prinzing, 74, passed away March 9, 2010, at his home in Wasco, Ore., with family by his side. He was born April 10, 1935, in Faribault, Minn., to Alvin Harold and Lillian Althea (Miller) Prinzing.
Stan's mother passed away when he was only 3 years old and he moved to Hood River, Ore, where he was raised by a sister. He attended schools in the Hood River area.
Stan served our country proudly during the Korean War in the U.S. Army. In 1955 after his honorable discharge from the Army he moved back to Hood River.
On Jan. 31, 1958, he married Leda Lavoie or, as she said, "I snatched him up from Hood River, paid the toll and got married in Stevenson, Wash." They were blessed with three daughters and a son.
Stan worked for the Union Pacific Railroad for nearly 20 years from the late 1950s to the late 1980s as a track inspector. He then worked construction and was a heavy equipment operator.
He enjoyed tinkering around in his shop; making and fixing things. He was also a good body and fender man and automotive painter.
Stan loved to spend time with his family and dogs; he enjoyed the great outdoors, from camping and fishing to working in his yard and garden.
Stan is survived and will be dearly missed by his wife, Leda, at their home in Wasco; three daughters, Melissa (and Daniel) Sanchez, of The Dalles, Debbie Lesbo, of Hood River, and Jeanette Prinzing, of The Dalles; brothers Lyle Prinzing, of Kent, Wash., Gerald (and Mavis) Prinzing, of Hood River, Dan Prinzing, of Wasco, and Steve, his twin, (and Donna) Prinzing, of Hood River.
He is also survived by six grandchildren: Michael, Jason, Brandon, Casey, Jared and Nicholas; six great-grandchildren; his two little dogs, Furby and Pugsley; and many other distant family and many, many friends.
He was preceded in death by his parents; sister, Althea; son, Scott; and granddaughter, Heidi.
Memorials can be made in Stan's memory to Heart of Hospice and sent in care of Anderson's Tribute Center.
A service to honor Stan's life and mourn his passing is planned for 3 p.m. Saturday, March 13, at Anderson's Tribute Center. Pastor Terry Abbott of River of Life Assembly of God Church will officiate. Military rites will be performed by the Oregon Honors Team. A reception will immediately follow.
Arrangements are under the direction of Anderson's Tribute Center, 1401 Belmont Ave., Hood River, OR 97031; 541-386-1000. Leave a note of condolence for his family at www.andersonstributecenter.com.