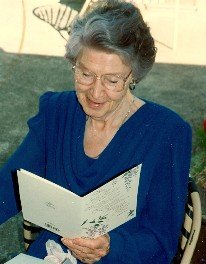 Brittie Bell Baker
September 25, 1913 - March 11, 2010
Brittie Bell Baker passed away peacefully surrounded by her family on March 11, 2010, in Newberg, Ore., at the age of 96.
Brittie Bell was born Sept. 25, 1913, in Jester, Okla., to Charlie and Diza Rogers. In December of 1913 her family traveled by wagon from Oklahoma to Colorado Springs, Colo., arriving in August 1916. From there they went by train to Portland, Ore.
In 1919, the family moved to the Hood River Valley and bought some land on Dee Flat, where they planted a small orchard. Brittie Bell went to grade school at Dee and graduated from high school in Parkdale.
On Nov. 12, 1934, Brittie Bell married Jack Baker, also from Dee. They lived in North Bonneville, Wash., for awhile while Jack worked on the Bonneville Dam.
On Christmas Day, 1941, their daughter, Jacqueline, was born. In 1946 Jack and Brittie Bell bought the family orchard in Dee from Brittie Bell's parents and continued to farm it until 1972. On Aug. 10, 1946, their son, Roger, was born.
Brittie Bell worked for Stadelman Fruit Company off and on for more than 40 years, managing the packing crew for many of those years. At the same time she often also ran the family orchard when Jack was away working construction.
In 1979, Jack and Brittie Bell moved to Portland to be closer to their family. While in Portland she worked for years in a Scandinavian gift shop.
In 2004 Brittie Bell moved to the Country Meadows Retirement Center in Woodburn to be nearer her daughter, Jackie.
She is preceded in death by her husband, Jack; her parents; and brothers Commodore, Jim and Moyne Rogers and sister, Hazel.
She is survived by her daughter, Jacqueline Lunceford, and her husband, Fred, of Woodburn; her son, Roger, and his wife, Junie, of Hood River; brother Deb Rogers and his wife, Jeanne, of Milwaukie, Ore.; grandchildren Lisa Mangum and her husband, Shawn, of LaGrande, Ore., Scott Lunceford and his wife, Amy, of Portland, Ore., and Jess Miller and her husband, Kyle, of Hood River; great-grandchildren Jack and Grace Miller and Lucy Lunceford; and numerous nieces and nephews.
Memorials can be made in memory of Brittie Bell to the Alzheimer's Foundation and Doernbecher Children's Hospital and sent care of Anderson's.
A service to celebrate her life is planned for 2 p.m. Thursday, March 18, at Anderson's Tribute Center (Funerals, Receptions, Cremations), 1401 Belmont Ave., Hood River, OR 97031; 541-386-1000. Please visit www.andersonstributecenter.com to sign the family guest book.