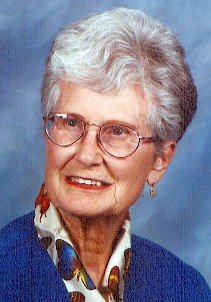 Harriet "Jean" Mangus
September 7, 1921 - March 14, 2010
Harriet "Jean" Mangus, 88, a resident of Providence Down Manor, passed away peacefully March 14, 2010, at her daughter's home in Hood River, Ore.
Jean was born on Sept. 7, 1921, in Wintersville, Ohio, to Harriet Armstrong Dougherty and Frank Dougherty. Her youth was shared with her older sister, Betty, who died in 1940, and her younger brother, Harry, who died in 2009.
In 1940 she married Craig Darsey McCoy and they had two children, George and Donna. Darsey was killed in action during World War II and at that time Jean and her two young children moved to Alliance, Ohio, where she raised the kids with the help of her mother.
Soon she met the love of her life, Glynwood Earl Mangus (Bud), who was a veteran of World War II, and they were married in 1947 and had three children: Cindy, Glyn and Beth. They were a family who enjoyed playing, praying and traveling.
There were always family and friends around and it usually involved food — picnics were a favorite — and water: a lake, ocean, beach or pool. The family always made time for travel and family vacations became famous for memories, whether to Arizona, Florida beaches, Canadian fishing lakes, Upper Wisconsin lakes or just camping around Ohio and North Carolina.
In retirement they traveled to Alaska to visit their son George many times and went to Europe to visit daughter Donna several times.
After Jean and Bud retired in North Carolina, they moved to Holiday, Fla., and enjoyed many years playing cards and bowling with their friends. Jean particularly enjoyed these years in the sunshine with long walks and "Turkey Trots."
They also enjoyed living close to their daughter Beth and son Glyn at this time. They moved to Lynchburg, Va., to be closer to daughter Cindy and family and gentler weather, when Bud passed away a year later in 1994.
Jean moved to Hood River in 2005 to live near her daughter Donna and her family. She chose to live at Down Manor and made many friends there.
Jean and her friend Bob Wood enjoyed going on dinner outings, theater evenings, playing cards, a cruise to Hawaii, a cross-country train journey to Virginia and Ohio, and sitting around the round table every morning visiting their friends and having that morning coffee or tea.
Family gatherings again were an important part of her life and she loved the backyard barbecue and a good hot dog.
Jean was a Past Worthy Matron of the Order of Eastern Star and Amaranth Sisters. She always found a church in her community wherever she lived and became active in its worship.
Jean is survived by two sons and three daughters: Dr. George A. McCoy (Mary), of Las Cruces, N.M., formerly from Girdwood, Alaska, Donna McCoy, of Hood River, Ore., Cynthia Lee Mangus Bon Durant (Curt), of Lynchburg, Va., Glyn Earl Mangus, of Highmore, S.D., and Beth Ann Mangus Roberts (DQ), of Highmore, S.D. She has eight grandchildren: Jennifer Smith Foster (Reyman) and David Mark Smith (Barb) of Hood River, Ore., Mark McCoy of Kenai, Alaska, Stephanie Bon Durant Grandy (Adam), of Plainfield, Ill., Matthew Bon Durant of Seattle, Wash., Anthony and Josh Mangus, of Burlington, N.C., and Mechelle Mangus, of Melbourne, Fla.; and a step-granddaughter, Alisha Roberts, of Chapel Hill, N.C.
Also surviving are eight great-grandchildren: Andrew, Mathew and Ryan Foster and Ellie and Aidan Smith, all of Hood River, Ore., Jack Grandy, of Plainfield, Ill., Hunter McCoy, of Lexington, Ky., and Ariana Mangus, of Florida. She is also survived by her Aunt Bernice Culp, of Alliance, Ohio, who is 100 years old; and three cousins.
A celebration of life was held at Down Manor on March 16, with a final family celebration in Alliance, Ohio, on her birthday to rest her with her husband, Glynwood.
The family suggests memorial contributions be sent to Heart of Hospice in care of Anderson's Tribute Center (Funerals, Receptions, Cremations), 1401 Belmont Ave., Hood River, OR 97031; 541-386-1000. Please visit www.andersonstributecenter.com to leave a condolence for Jean's family.