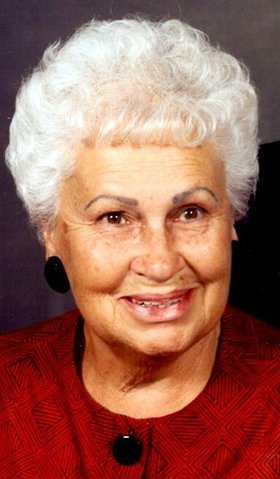 Lenna Edris Hermann
September 30, 1919 - March 16, 2010
Lenna Edris Hermann, 90, passed away peacefully with her family at her side on March 16, 2010, at Hawks Ridge Assisted Living Community in Hood River.
Lenna was the youngest of three girls born to Ed and Ollie Neill Sept. 30, 1919, on the family ranch on Butter Creek, Ore. She went to Pine City grade school and high school. In 1936, Lenna moved to La Grande, enrolling in Eastern Oregon Normal School, a two-year teacher training school that is now Eastern Oregon University.
It was during her second year of college that Lenna met L.W. "Buck" Hermann, whom she described as "the most wonderful young man." They were married on May 20, 1939, in Lewiston, Idaho, the day following Lenna's first year of teaching at Stanfield, Ore.
Lenna taught second grade at Willow Elementary School in La Grande from 1953 to 1980. She took night classes until she got her master's degree.
During her teaching career she was president of the Union County branch of Oregon Education Association. She belonged to ACE (Association for Childhood Education) and Delta Kappa Gamma.
Lenna and Buck were instrumental in the creation of the Oregon State Snowmobile Association. She was a longtime member of The Order of Eastern Star in La Grande, holding many offices including Worthy Matron.
She was also very active in church activities at La Grande First Christian Church, where she and Buck were members for more than 60 years. Buck and Lenna founded the very successful Union County Shriner's Hospital for Children annual pizza fundraiser.
Lenna described their retirement years as wonderful. Many winters were spent snowmobiling from their cabin at Tollgate. Later they traveled with their motor home, then sold it and bought a home in Yuma, Arizona's Capri Park.
She and Buck thoroughly enjoyed many years of fun in the sun through the winter months in Arizona and beautiful summers in Eastern Oregon spending time with their kids and grandkids. They also took many trips out of the U.S.
Lenna is survived by her husband, Buck, married almost 71 years; her son, Bill, and his wife, Jodi, of La Grande; daughter, Sharlene Wilkins, and her husband, Ronald, of Hood River; grandchildren Kim Hilton and her husband, Anthony, Greg Hermann, Jason Wilkins and his wife, Kim Yasui, Julie Dromgoole and her husband, Darren, and Etta Foster and her husband, Jeff; and six great-grandchildren: Kendra, Aunika, Evan, Ethan, Max and Perizat.
She is also survived by her sister Neva Neill, of La Grande, as well as many other family and friends.
Lenna is preceded in death by her parents and her sister Oleta Akers.
A memorial service will be held at 2 p.m. on Saturday, March 20, at the First Christian Church in La Grande. Viewing will be at the First Christian Church on Friday evening from 6-8.
Memorial contributions can be made in her name to either Hospice of the Gorge, Hood River, or the Shriner's Hospital for Children, and sent in care of Anderson's Tribute Center, 1401 Belmont Ave., Hood River, OR 97031, or Loveland Funeral Chapel, 1508 Fourth St., La Grande, OR 97850; 541-963-5022; www.lovelandfuneralchapel.com.
Please visit www.andersonstributecenter.com to leave a note of condolence for Lenna's family.