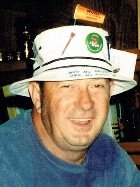 Homer Allen Phillips
August 7, 1940 - March 18, 2010
Homer Allen Phillips, 69, a longtime resident of The Dalles, Ore., passed away at a hospital in Portland, Ore., on Thursday, March 18, 2010.
He was born in Powhatan, Ark., on Aug. 7, 1940, the youngest of eight children to Jesse H. and Pearl R. (Neece) Phillips. He was raised in Powhatan, Ark., and attended a one-room schoolhouse in Lawrence County, Ark.
Allen married Esther Faye Heath in Las Vegas, Nev., on June 16, 1962. He has resided in The Dalles for more than 40 years, and was a member of The Dalles Country Club, the Elks and the Eagles Lodge and enjoyed golfing, playing pool, bowling and spending time with his grandchildren.
He is survived by his wife, Esther; his two daughters, Carolyn and Kim; three grandchildren: Brenna, Makayla and Colton; his sister, Jessie Loop; his three brothers, L.V. Phillips, Russell Phillips and Louie Phillips; and numerous nieces and nephews.
He was preceded in death by his parents; one brother, J.D Phillips; and two sisters, Juanita E. Mahanke and Eunice I. Schuler.
Viewing will be held on Wednesday, March 24, from 2-5 p.m. and Thursday, March 25, from 8:30 a.m. until the service begins at Spencer, Libby and Powell Funeral Home.
The funeral service will be held on Thursday, March 25, at 10 a.m. at Spencer, Libby and Powell Chapel.
In lieu of flowers memorials may be made to OHSU Knight Cancer Institute for Leukemia research under the direction of Dr. Michael Mauro. Make checks payable to OHSU Foundation, 3181 S.W. Sam Jackson Park Road, CR 145, Portland, OR 97239.