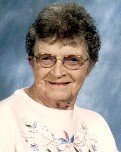 Patricia Lenore Steager
October 5, 1924 - March 22, 2010
Patricia Lenore Steager passed away quietly and peacefully on March 22, 2010, in her home at Hidden Lakes Retirement in Salem, Ore.
Pat was born to Ralph and Rose Ward on Oct. 5, 1924, in Bremerton, Wash. Her family later moved to Portland, Ore. She attended Bonneville Grade School and attended high school in Stevenson, Wash.
Pat met Richard Steager as he was working in Bonneville. They were married May 29, 1942, in Stevenson, Wash. Richard worked as a guard at the Bonneville Dam until he entered the U.S. Army, where he served until 1945.
Pat moved with their infant daughter, Coleen, to the home on Summit Drive in Hood River. It was to this house that Richard "Dick" returned after the war and where their other three children, Robyn, Sheila and Paul, were born.
Pat and Dick purchased the Leroy Ross home on Summit Drive in 1963 and in July of 2010 Pat sold the home and moved into Down Manor, but before winter she moved closer to her family in Salem, Ore. She enjoyed her apartment at Hidden Lakes Retirement and the beautiful lake and all of her wonderful new friends.
Pat became a member with her husband of Valley Christian Church in the late 1950s. She served on the Evangelism Committee of that congregation. Before she became the church secretary of Hood River Valley Christian Church she had served as a deaconess, secretary of the board and outreach chairman.
Pat served as office manager and church secretary under three different ministers from 1966 to 1988. Since 1988 she served her church in various volunteer capacities, always concerned for the welfare of others.
She served on the FISH board representing Valley Christian Church for several years. She also helped administer the "Help A Neighbor Fund". She worked in the church gift shop, and the Hood River Museum from 1999-2009.
She worked with six widows through Hospice and worked on their "Critter Crew" to recycle stuffed animals to minister to those needing comfort. She also enjoyed serving in home communion.
Pat loved the Lord and committed her life to serving others. She found great joy reading and studying the Word of God and participating in her Bible study groups.
Pat was preceded in death by her parents; husband; daughter, Robyn Kam, and grandson, Jason Kam.
She is survived by her three children: Paul Steager, Sheila Reed and Coleen McNeill (and husband, Dan); two grandchildren, Jeff McNeill (and wife, April) and Darci Lundberg (and husband, Brett); five great-grandchildren: Devon McNeill (and wife, Samantha), Grayson McNeill, Hayden McNeill, Sydney McNeill and Tia Lundberg; great-great-granddaughter, Lorelei McNeill; brother, Don McLaughlin (and wife, Bonnie); sister, Glenda Null; and many cousins, nieces and nephews.
Memorial contributions can be made to the Hood River Valley Christian church in memory of Pat.
A service to honor Pat is planned for 2 p.m. Saturday, March 27, at Valley Christian Church, 975 Indian Creek Road, Hood River. Graveside rites were conducted privately on Friday, March 26, at Pine Grove Butte Cemetery.
Arrangements are under the direction of Anderson's Tribute Center (Funerals, Receptions, Cremations), 1401 Belmont Ave., Hood River, OR 97031. Please visit www.andersonstributecenter.com to leave a note of condolence for family.