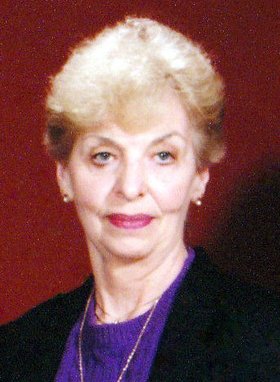 Donna Elaine Roberts
April 2, 1933 - September 26, 2009
Donna Elaine Ingram Scheer Roberts was born April 2, 1933, to Millard Lewis Ingram and Helen Cress Ingram in Delano, Calif. She passed away Sept. 26, 2009, and was 76 years of age at the time of her death.
Donna went to school in Leggett, Calif., and graduated from Ukiah High School in Ukiah, Calif., in 1951. She was active in cheerleading, drama, band, choir and student council, and sang with a trio on the radio after graduation.
Donna worked as a telephone operator and as a waitress in Cascade Locks, Ore., and at Alice's in Hood River and the Hood River Inn; she also worked as a floral designer at Hood River's The Height's Floral. She was the first woman to work a share at Co Ply plywood mill in Stevenson, Wash.
Her proudest accomplishment was raising three children: Rhonda M. (Norlund) Hess and her husband, Randy, reside in Monterey, Calif. Grandchildren Brad, Andy, Eric, Tyler and Adam also reside in Monterey. Heather is stationed at NAS Memphis, Tenn., and Ryan is stationed at Pt. Mugu, Calif.
Denise R. (Norlund) Kriegner resides with her husband, Bo, in Springdale, Ark. Grandchildren are Kellie, Kacie, Karlie, Katie (preceded in death) and Kenzie. Great-grandchildren: Brock, Braden, Jayden, Kameron, Karson who all reside in Springdale.
Bret L. Norlund resides with his wife, Meena, in Orangevale, Calif. Grandchildren Sarah, Eric and Emily Norlund, along with great-grandchildren Connor and Aminita, all live in the Sacramento, Calif., area.
Donna moved to Hood River, Ore., after her marriage to Edward "Guy" Scheer, a longtime resident of Hood River. They built a log house and lived there in their park-like setting for nearly 30 years until Guy's death four years ago.
Newlyweds Donna and Jack Roberts lived in the log house until Sept. 26, when Donna went to sleep in her room and awoke in heaven.
Favorite activities Donna enjoyed were gardening, crafts, dollar store shopping, sewing, creating shadowboxes, collecting antiques, caring for her dogs, Jake and Lilo, and watching the Blazers basketball team. She traveled to Mexico, The Philippines, Hong Kong, Belgium, Holland, Germany and Paris.
A service to honor Donna is planned for 11 a.m. Saturday, May 8, at Anderson's Tribute Center (Funerals, Receptions, Cremations), 1401 Belmont Ave., Hood River, OR 97031. Please visit www.andersonstributecenter.com to leave a note of condolence for family.