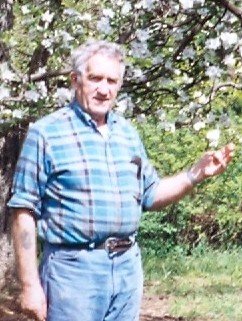 George Cameron Allen
October 25, 1922 - April 25, 2010
George Cameron Allen was born Oct. 25, 1922, to Charles and Della Cameron Allen in Odell, Ore., and passed away April 25, 2010, at Providence Medical Center in Portland.
George remained a life-long resident of Hood River Valley except for a period of four years that he served in the Navy during World War II. He returned to his high school sweetheart, Martha Eden, and they wed on Aug. 4, 1946.
They settled into their first home on Willow Flat, and George joined his father working in the family orchard. Together with his father, he built a new home on a rise above the orchard with a panoramic view of Mount Adams and the Hood River valley.
George was a man of few words, but he loved to tease and was devoted to his family.
He was proud of his orchard that he purchased from his parents and was a hard-working orchardist until his retirement in 1994.
He was always anxious to get outdoors after winter rains and storms gave way to a new growing season. He loved the outdoors, not only working in the orchard but also planting the family garden and tending the roses for Martha. The first rose of the season was always cut and presented to his beloved wife.
George is survived by his wife, Martha Allen, and daughters Claudia Floyd (John), Deelana Johnson (Robert) and Pamela Dean (Kevin); and three grandchildren: Brian Floyd, Andrea Floyd and Natalie Johnson. George is also survived by his older brother, Joe Allen.
Military honors were given during the April 30 services held at Anderson's Tribute Center with interment at Idlewilde Cemetery.
In lieu of flowers, please make donations in George's name to the Odell Volunteer Fire Department and send in care of Anderson's Tribute Center, 1401 Belmont Ave., Hood River, OR 97031.
Please visit www.andersonstributecenter.com to leave a note of condolence for family.