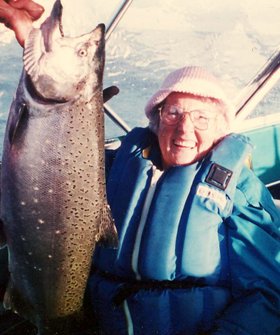 Alice Ordway Springer
December 8, 1920 - March 31, 2010
Alice Ordway Springer was beautiful, generous, kind, adaptable and hardworking. At 89 she died on March 31, 2010, in Vancouver, Wash. She was born Dec. 8, 1920, to Ralph and Eunice Ordway at their home in Lakeshore.
Her family had orchards and her father was the Clark County road superintendent. This was an appointed position; but with political change he became unemployed. He started a grocery store in Vancouver on 26th Street where the family lived above the store.
Alice learned work ethics there and vowed never to own any kind of retail store, since it consumed their lives.
She graduated from Fort Vancouver High School in 1940, and then attended The Business College. She loved to roller skate and was spotted one day by her future husband Winston. He pulled up beside her in his car but she wasn't interested.
He got a friend to help him get her name and address. He later showed up at her door, already smitten, and tried to impress her by playing tunes on the family piano. It worked! They were married on Oct. 5, 1942, and spent their honeymoon together in Georgia, where he was stationed after being drafted.
Her life was consumed by raising her three children, doing the bookkeeping for the family business, selling real estate and even being PTA president. She also took on bookkeeping for Penco Auto Supply and the Evergreen Animal Clinic. She always managed to have time for friends and family; no one was ever turned away from the dinner table.
Her family was early pioneers in the Columbia River Gorge area, possibly migrating there from information passed on from Sergeant Ordway, a distant cousin who was 3rd in command on the Lewis and Clark expedition of 1804.
She was survived by her husband, Winston Springer, for a brief six days, and her three children, Katherine Bishop (William), of Vancouver, Wash., Barbara Hansen (Jim), of Trout Lake, Wash., and Paul Springer (Crystal), of Battle Ground, Wash.; and several grandchildren and great-grandchildren.
There is so much that could be said about her including her love of fishing, family and traveling, and her deep-seated religious convictions. No one ever had a bad word to say as she was certainly an angel on earth.
Family members will have a celebration of life at the Pine Grove Cemetery.