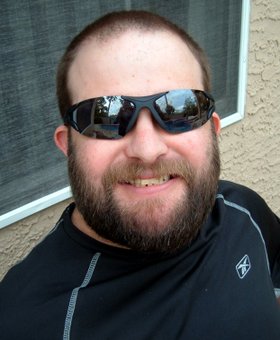 Michael David Hull
November 11, 1970 - April 23, 2010
Michael David Hull was born in Hood River, Ore., on Nov. 11, 1970, and passed away peacefully in his sleep at home in Las Vegas, Nev., on April 23, 2010, to cardiac arrest.
Throughout his short life Michael was a strong fighter, beating surmounting odds many times. His inspiration and kindness touched many people. Michael always had an upbeat, friendly and truly unselfish personality.
Michael was a life-long resident of Hood River, attended Hood River Valley schools and worked at Luhr Jensen's before moving to Las Vegas in 2001.
Michael was an avid professional and college sports fan. He enjoyed all sports, fishing, WWE, playing Internet games, his pets and his many friends. He was looking forward to moving back to Hood River in the next few months, but God had other plans for him.
Michael is survived by his parents, Susan and Lynn Spellman, of Las Vegas, Nev., and David and Debbie Hull, of Hood River; brothers Monte, of San Diego, Calif., and Tony, of Hood River, Ore.; and sister, Leah (Matt) Smith, of Cornelius, Ore.; and his best friend, Sam Patton, of Hood River; grandparents Betty and Sterling Kadlec, of The Dalles, Ore., and Julia Spellman, of Vancouver, Wash.; his aunts and uncles, Janet (David) Hinkley, Tom Slack, Don Hull and Dean (Kathy) Spellman; three nieces, cousins and many, many great friends.
He was preceded in death by both of his grandfathers, Hod Slack and Brooke Hull; and beloved great-grandma, Bessie Level.
Michael will be profoundly missed by all who knew him. His family would like to thank the University of Oregon Health Science Center Neo-natal and Crippled Children's Center, the Mayo Clinic, the USC Heart Center and Dr. Gary Mayman for all of his years of support and love while caring for Michael. With all of their help, Michael lived his life to his fullest potential.
A celebration of Michael's life will be held on July 10 at 4575 Leasure Road, Mt. Hood, Ore., at a time to be announced later. Please visit Michael's memorial website at www.mem.com where written messages can be shared and will be printed into his memorial guest book.