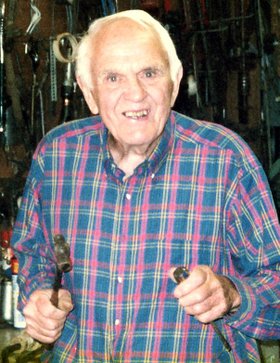 Winston Springer
August 22, 1918 - April 6, 2010
Winston Springer was a very gregarious, fun-loving and strong-minded individual. He completed his journey on April 6, 2010, with military respect and dignity. He was born Aug. 22, 1918, to William and Catherine Springer in the basement of a church on 33rd and "L" Street in Vancouver, Wash.
He was an entrepreneur his entire life. The Depression hit the family hard and was the trigger for him to learn the value of a penny. As a child he developed a successful magazine route. At age 12 he purchased a vehicle that he spotted on his daily route. It was an old "C" cab chain-driven truck which was parked on a dock near a paper mill.
As a skinny kid in bib overalls and worn-out shoes he mustered up the courage to ask if he could buy the old truck. He had $5 saved, offered that and was the proud owner. With a little help from his dad he later resold the vehicle, making a $10 profit. This transaction started his career in automobiles.
Winston joined the Civil Conservation Corps when he was 18 and was located at Hemlock, Wash. During his pre-war driving years, he was well-known by all the local policemen. On one teen adventure he ended up eluding officers in pursuit by driving his vehicle across the high train trestle at the mouth of Salmon Creek, northwest of Vancouver.
He was drafted into the army just before World War II. He completed basic training in Florida, with a brief trip back to Vancouver when, after hearing someone else had eyes for her, he married Alice Ordway.
Recently, all of his love letters written to his wife during the war were located and read by his family. There are no sweeter letters to anyone. In them the loving side of him, which was hidden at times, could be clearly seen.
While stationed in the south he was urged to participate in a talent show. With reluctance he got on the stage, played "Downtown Strutters Ball" on the piano and left. He was later told that he was the hands-down winner of the show. He had a great talent for music and played and appreciated music all of his life.
He was a medic on the front lines during World War II. He landed on Utah beach at 7:30 a.m. on D-Day. He was later wounded in St. Lo, France, by a bomb or booby trap. It was published on the front page of the Columbian that he was missing in action, and then later about his serious injuries. After his recovery he served out the war in the motor pool in France.
Upon returning from war he purchased his father's business, Vancouver Radiator. He expanded the business to include an "auto body and paint shop." Later, he also added a small used-car lot. He and Alice also successfully invested in, rented and sold properties.
Winston was somewhat of a local character and a great cross-section of individuals would stop by the shop just to visit and be entertained by his wit and sense of humor.
After retirement he and his wife made their home on the Long Beach Peninsula where they spent many wonderful years beach combing and enjoying the area. They also traveled to Mexico and Arizona in the winter.
Six days prior to his death, on March 31, his wife of 67 years, Alice Ordway Springer, died. Survivors include his three children: Katherine Bishop (William), of Vancouver, Wash., Barbara Hansen (Jim), of Trout Lake, Wash., and Paul Springer (Crystal), of Battle Ground, Wash.; several grandchildren and great-grandchildren.
He will be greatly missed by all of his family, friends and acquaintances.
Family members will have a celebration of life at the Pine Grove Cemetery.