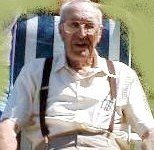 Jean Mark Nichols
June 20, 1921 - May 5, 2010
Jean Mark Nichols was born on June 20, 1921, to Mark and Mattie Nichols of Zillah, Wash. He passed away on May 5, 2010, after a long illness.
One of five children, Jean enjoyed life on the family's apple orchard, helping his father and brothers tinker with their projects and inventions. He was also a bit of a practical joker who knew how to apply harmless shocks from a Model T Ford coil to unsuspecting recipients. Jean remained friends with his Zillah buddies and gal friends until the end.
Jean graduated from Zillah High School in 1939. He went on to attend the University of Washington, serve in the Civilian Conservation Corps (CCC) as a bulldozer operator in Grangeville, Idaho, and man a Forest Service lookout in the Mt. Rainier National Forest.
He joined the Army Air Corps In World War II, where he served in the Philippines as a B-25 medium bomber pilot. He returned stateside unscathed in 1946.
Jean married Margaret Scott in 1942. After the war, they lived in Outlook, Wash., Hood River, Ore., Seattle, and Vancouver, Wash. They raised three children, Sally, Doug, and John.
After the war, Jean worked as a farm hand and as a welder and fitter in his father's business, Nichols Boat Works Co. He found his calling in the sales of heating and ventilating equipment and industrial instrumentation in 1953, and retired from Branom Instrument Co. after 25 years of service.
Not one to sit idle, after retirement Jean worked part-time repairing swimming pool pumps, delivering parts and working the counter in a hose and fittings store. And, he always had large and small home projects that kept him busy.
After 35 years of marriage, Margaret passed away and Jean went on to marry Tommye Gallup. They moved to Richland, Wash., and lived there happily until Tommye's death in 1999. Jean was pleased to welcome Tommye's adult children, Peggy and Bruce, to his brood.
Those who knew Jean will remember the good times helping out on his many projects, and sitting in the "Control Tower" at "Nichols Acres" in Vancouver, being served BV and water, and regaled with tales from his life in Zillah, the CCC's the lookout, and most of all, his B-25 piloting days. Jean had a great sense of humor and loved to hear and tell funny stories.
Jean was a loyal, devoted husband, a generous father and a helpful friend. He leaves behind a big void that will take a long time to fill.
Jean was preceded in death by his parents, his siblings (Vic, Verna, Frank and Dick) wives Margaret and Tommye, daughter Sally Leach, and stepson, Bruce Gallup.
He is survived by sons Doug and John, their wives Suzanne and Kathy, stepdaughter Peggy Gallup, 10 grandchildren, 12 great-grandchildren, one great-great-grandchild and many friends, young and old.
Jean will be laid to rest at 1 p.m. Thursday, May 13, with a graveside service and military honors at Idlewilde Cemetery, 980 Tucker Road, in Hood River, Ore. Pastor Gary Young will officiate.
A short reception will follow at Anderson's Tribute Center, 1401 Belmont Ave., Hood River. Please visit www.andersonstributecenter.com to leave a note of condolence for family.
Family requests that donations be made to the American Lung Association in memory of Jean and sent care of Anderson's, 1401 Belmont Ave., Hood River, OR 97031.