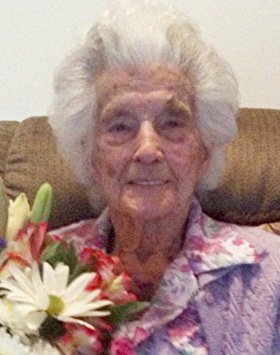 Florence J. Hammer
October 7, 1906 - May 10, 2010
Florence J. Hammer, 103, passed away at Anita's care home in Parkdale, Ore., on May 10, 2010. Florence was born Oct. 7, 1906, in White Sulphur Springs, Mont., to Murray and Ethel Johnston.
Florence's parents were cattle ranchers, living in a log house several miles from any roads or neighbors. The first born in a family of six, Florence learned to care for herself and her siblings who followed. Florence attended the first school in Shannon, Mont., which was a log cabin.In 1922 when Florence was 16, part of her family traveled to Oregon in a Dodge via the Columbia River Highway, which was unpaved and full of ruts. They had car trouble and her mother became ill.
The family camped for days until her mother was well enough to travel. They settled in Salem, Ore., where Florence later attended Willamette University.
On Sept. 24, 1927, Florence married Herman Hammer. In October of 1928 her daughter Lois was born. They had two daughters, Loree and Lois. Loree died at the age of seven months.
Herman and Florence became farmers, clearing many acres of land by pulling stumps with teams of horses and hand raking the ground to remove the roots left behind. The couple grew grain and later potatoes, which they sold to local businesses under the "Hammer" brand. Florence worked at Paulus Brothers cannery in Salem in the 1940s.
Florence and Herman loved to fish for steelhead at Hebo, flounder at Sand Lake and striped bass near Coos Bay, where her daughter Lois and son-in-law Ed lived in Coquille in the late 1940s. In winter she enjoyed sledding with the best of them down her long, curvy driveway or through a cherry orchard and over a wooden bridge in The Dalles.
The Hammers purchased a small farm in Woodburn, Ore., containing a small walnut orchard. Florence harvested the walnuts, then dried and shelled them one at a time, and sold them to Pine Grove Grocery in the 1970s
Herman passed away in 1961. Florence worked for Birdseye in Woodburn. In the late 1960s Florence lived with her daughter and son-in-law, Lois and Ed Neufeldt, in the Pin Grove area of Hood River, Ore. Florence loved to garden and weeds didn't stand a chance with her around. Her much-used shovel is a tribute to her hard work.
She accompanied her brother Dave and wife on a trip to New York seeing sights and special Broadway shows. She made several trips to Mexico to visit Ed and Lois in San Carlos. On one trip she had to "walk the plank" to cross over the washed-out driveway, to get to the airport on time.
Later, with health failing, Florence moved to Hawks Ridge then on to Anita Allen's care home in Mount Hood, Ore.
Florence got to enjoy probably more birthday cakes than the average person and elected to "pinch" out the flame instead of the usual practice.
Florence is survived by her daughter, Lois Neufeldt; three grandchildren, Roger Neufeldt, Doug Neufeldt and Peggy Jo Leslie, all of Hood River; six great-grandchildren, Jason Neufeldt, Stefanie Hughes, Jane Osborne, Teresa Ellifritz, Chase Drum and Grant Drum; and five great-great-grandchildren, Cailey Hughes, Madeline Hughes, Alex Ellifritz, Emilie Ellifritz and Aaron Osborne.
Memorials can be made to Hospice of the Gorge or the Pine Grove Fire Dept. and sent in care of Anderson's Tribute Center, 1401 Belmont Ave., Hood River, OR 97031.
A service is planned for 11 a.m. Saturday, May 15, at Anderson's. Graveside rites will follow at Pine Grove Cemetery.