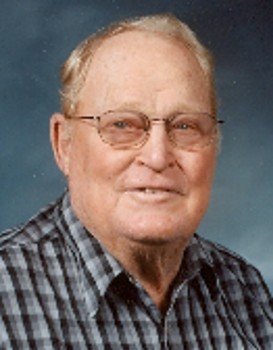 Allen George Lane
August 31, 1922 - May 22, 2010
Allen George Lane was born Aug. 31, 1922, in Bixby, Okla., to Ralph and Trecia (Waldroop) Lane. He was a hard-working man, having been born in the 1920s during the Great Depression on a farm in Oklahoma.
He started working in the fields as a young boy and picked and peddled many a watermelon. He hunted squirrel and rabbit just to have meat to eat and to this day he could not eat rabbit.
Allen first laid eyes on Arlene in a cotton camp playing softball and thought she was beautiful; she later became his wife in 1947. They were happily married for 56 years until her passing in 2003.
Although he only had a third-grade education he would go on to own and operate a very successful paving company called Hawthorne Paving with his brother, Ernie, and good friend JB.
Allen loved to fish and has passed on this tradition to four generations of Lanes. Many a day was spent sitting in a boat in the heat catching catfish and crappie. His favorite fishing hole is Clear Lake in California, where he caught many large 20-plus pound catfish.
Even in his later days of foggy memories he would sit in his chair and tie invisible hooks to invisible line and hand them to you. He loved country and Gospel music and hardly a day would pass without him listening and signing to "his songs."
He taught himself to play fiddle and harmonica as a young man on his parents' porch. Until just two weeks ago he would still take his harmonica out and play for family and the great staff at Brookside.
He absolutely loved his grandkids and great-grandkids. They were the apple of his eye. His big hands holding those sweet little ones will never be forgotten.
His strongest love, though, was for the Lord. He was a strong Christian man and a faithful member of the Church of Christ all his life. In 2003 he moved himself and his ailing wife to Hood River, Ore., to be near family, Arlene passed away six weeks later.
In 2006 he married a dear lady named Bea. She loved him and they were very happy together. She took care of him until 2008 when he moved to Brookside Manor. Bea was there every day to sit, laugh and hold his hand. The care he received at Brookside made his last years pleasant and we want to thank the staff for their loving care.
Allen was preceded in death by, his parents; wife, Arlene; three brothers, Troy, Lenzy and Avery; and two infant children, Peggy and Jeffrey.
He went home to be with the Lord on May 22, 2010, when he passed at Brookside in Hood River with family by his side.
Allen is survived and will be dearly missed by his wife, Bea; two sons, Arlie and Dale; two daughters, Jan and Cheryl; brother, Ernie; four sisters, Marybell, Dorothy, Jewell and Loreen; 11 grandchildren and 21 great-grandchildren.
A service to honor Allen's life is planned for 1 p.m. Wednesday, May 26, at the Hood River Church of Christ, 1512 Tucker Road), with a reception to follow and then interment at Idlewilde Cemetery. Friends are invited to greet with family Tuesday evening from 6-8 p.m. at Anderson's Tribute Center (1401 Belmont Ave., Hood River) during a time of viewing.
We love you so very much and we will miss you so very much.
Please visit www.andersonstributecenter.com to leave a note for Allen's family.