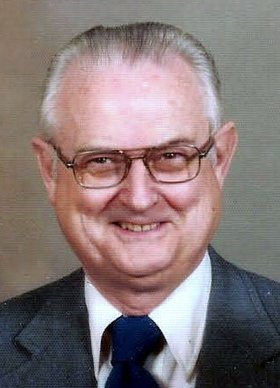 Donald Cobb Scott
June 16, 1917 - May 16, 2010
Donald Cobb Scott was the high school band director in Hood River from 1946-1951. He was a beloved husband, father of three, grandfather of eight and a teacher who brought the love of music to thousands of students all across Oregon. He was a leader in public school music education, an inventor, and was always ready with a pun to the groaning delight of family and friends.
Don passed away on May 16, 2010, in Beaverton, Ore., surrounded by his wife and three children.
Don was born on June 16, 1917, to Ralph and Susan Scott in Spring Valley, Ore., near Salem. He graduated from Salem High School in 1936, and went on to earn a bachelor's degree (1940) and a master's degree (1949) in music education at the University of Oregon.
During World War II, Don served in the U.S. Army as a military band leader in the Pacific theater from February 1943 through December 1945. He reached the rank of chief warrant officer.
Don met his future bride, Pauline Ann Pengra, when he was brought in as the guest flute soloist for an operetta at Lebanon High School. Polly was the soprano soloist. They were married on Thanksgiving Day, Nov. 20, 1941, in Eugene, and he shipped out to join the Army less than three months later.
After the war, they raised their three children (Sid, Cal and Ann) in Hood River, La Grande, West Linn and McMinnville, Ore. Wherever they lived, Don and Polly were members of the Methodist church, and church activities were a central part of the life of the family.
As a music educator, Don taught high school bands and supervised school music departments, for more than 35 years. He is remembered for his strong leadership and commitment to making beautiful music during the years he taught in Hood River (1946-1951), La Grande (1951-1965) and McMinnville (1967-1982).
Don's contributions to music education extended beyond the classroom, through participation in regional and national music education associations. In 1954, Don was elected state president of the Oregon Music Educators Association. In 1961, he was elected president of the Northwest Division of the Music Educators National Conference (MENC).
After retiring from teaching, Don developed and patented his idea for a "drum caddy" to facilitate the rapid transportation and setup of trap drum sets. For a number of years, he built the drum caddies in his workshop in McMinnville, selling them to school districts and professional drummers all over the U.S. He sold the patent to the Peery Products Company, and "The Drum Caddy" is still in production.
Don was also active in the McMinnville Kiwanis community service organization for many years.
Don is survived by his wife, Polly, of Beaverton; son Sidney and his wife, Shirley, of Naperville, Ill.; son Calvin and his wife, Sue, of Tigard; daughter, Annie, and her husband, Mick Mortlock, of Lake Oswego; grandson David Scott; granddaughter Rebecca Scott; granddaughter Kathleen Scott; grandson Robert Scott and his wife, Andrea; granddaughter Laura Kelly; granddaughter Sarah Dyrhaug and granddaughter Leigh Breuer and her husband, Sam.
He was preceded in death by his parents, Ralph and Susan Scott; sister Jeannette and her husband, Ben Briggs; sister Barbara and her husband, Bill Zentner; and grandson Sean Kelly.
A celebration of the life of Don Scott will be held at 3 p.m. Saturday, June 19, at the Atkinson Memorial Church, 710 Sixth St., Oregon City, Ore. (503-656-7296). Following the service, a reception will be held and food will be served.
In lieu of flowers, donations may be made to the Oregon Music Educators Association or the Oregon Alzheimer's Association.