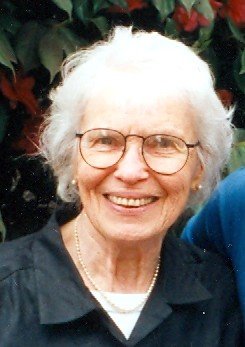 Aileen Maeve Steeves-Pobanz
November 16, 1923 - October 31, 2010
Aileen Maeve Hutchinson Steeves-Pobanz passed away peacefully on beautiful sunny autumn morning, Oct. 31, 2010, surrounded by the love of her family and with her husband Sam by her side.
When born Nov. 16, 1923, in Hood River, Ore., to Rev. Robert A. and Helena Jane Belton Hutchinson, she completed the close-knit family of three brothers and a sister then living in Parkdale.
Being the family of a minister, they also lived in The Dalles and Salem, where she graduated from high school. She initially attended Willamette University. After her father was assigned to a church in Seattle, she graduated from the University of Washington.
Aileen and L. Richard Steeves married in 1946 and moved to Hood River in 1949 to be close to her parents, who had relocated for her father's appointment as pastor of Riverside Community Church. Together they raised two sons, Robbie and Brian, and built a beautiful home overlooking the Columbia River which Aileen lovingly enjoyed for 49 years. The couple divorced in 1974.
In 1982, Aileen and Sam Pobanz, M.D., were married. They recently celebrated 28 happy years together. Sam added five adult children to her life which she lovingly embraced.
After her sons entered school, Aileen began her working career at the Hood River Library. She then was employed by Children's Service Division where she worked with families, children and girls in trouble. She had a passion for helping people in need and a desire to help them establish a stable life and hope for the future.
She was a driving force to establish a hospice organization in the Gorge area. She was very proud to be a board member and to be affiliated with Hospice of the Gorge for 25 years. Her vision, determination and love for that which hospice stands made those years of service a joy.
At the end of her life, she benefited directly from the caring, professional services of hospice, which helped make it possible to spend her final days in her beloved home.
In 1988 Soroptimist International of Hood River awarded her as a Woman of Distinction. The award honors women who have made an outstanding achievement in their professional, business or volunteer activities.
As a longtime resident and active community member, Aileen was active in many local activities, charities and social groups over the years. She was a member of Riverside Community Church and a founding member of Riverside Evening Guild. PEO and AAUW also counted her as a member.
She enjoyed her bridge club and book club activities as well as being an active supporter of the library and the arts. Aileen also worked with Home Extension and Planned Parenthood.
These activities and passions generated a wonderful and supportive circle of friends who were very important and special to her throughout her life.
Because her parents emigrated from Ireland on their honeymoon so her father could be a missionary to Oregon, Aileen and her siblings had no relatives nearby. Thus they were very close throughout their lives and she especially loved family gatherings.
Aileen loved to entertain and was the consummate hostess no matter what the occasion. She will be remembered for her hospitality, impeccable manners, kindness, generosity and loving open heart.
Aileen is survived by her husband, Sam Pobanz, M.D.; brother Raymond A. Hutchinson, of Salem; sons Robert and his wife, Lynn, of Forest Grove, and Brian and his wife, Jan, of Hood River; special niece "daughter of my heart" Janis Webb, of Bellevue, Wash.; stepchildren Kris Pobanz, Mariah Kaye, Betsy Pobanz, Nancy Pobanz and Alan Pobanz; grandchildren Mary Lena Harmon, Richard Steeves, Vivian Remoy, Leah Spink, Kelsey Pobanz and Hannah Pobanz.
She is also survived by numerous Hutchinson, Steeves and Coffeen nieces and nephews and her brother-in-law, Tom Steeves, of Portland, Ore.
A family service will be held at Riverside Community Church on Saturday, Nov. 6. A public celebration will be held on Saturday, March 19, in honor of Aileen and St. Patrick's Day, which was one of her favorite holidays. Details will be announced later.
Memorial contributions may be made to Hospice of the Gorge or a charity of your choice.
Arrangements are under the direction of Anderson's Tribute Center (Funerals, Receptions, Cremations), 1401 Belmont Ave., Hood River, OR 97031; 541-386-1000. Please visit www.andersonstributecenter.com to leave a note of condolence for family.