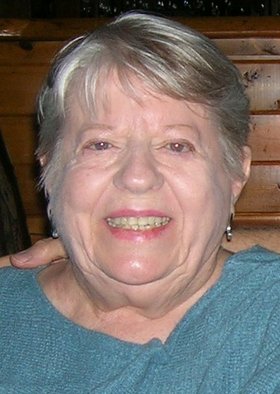 June Gibbons Manning
July 13, 1926 - October 22, 2010
June Gibbons Manning of Mosier, Ore., passed away on Friday, Oct. 22, 2010. She was born in Long Beach, Calif., on July 13, 1926, to James and Vera Gibbons.
After graduating from Polytechnic High School in Long Beach, she studied fine art as a four-year scholarship student at Chouinard Art Institute in Los Angeles. That was followed with a year of study at the Art Students League in New York City.
June was primarily a painter but also enjoyed working with fiber. Following art school she worked professionally doing layout for Conde Nast Publications, New York; as fashion illustrator for Younkers Department Store, Des Moines, Iowa; as fashion illustrator, Newport News, Va.; and as window display designer in Long Beach, Calif. Her surgical illustrations for the U.S. Army were moved to the Smithsonian Institute's permanent collection.
She married Robert Henry Manning of Des Moines, Iowa, in 1951. June created a loving and beautiful home for her family. She taught private art lessons for many years and continued to evolve as a painter throughout her lifetime.
The most recent of many gallery showings of her artwork was in November 2008 at Columbia Center for the Arts in Hood River, Ore. Earlier gallery affiliations include: Gallery House, Palo Alto, Calif.; Gallery Mack NW, Seattle, Wash.; Burnham House, Los Gatos, Calif.; Gallery Mack NW, Bellevue, Wash.; Gallery Mack, Carmel, Calif.; Phillip Trap Galleries, Carmel, Calif.; Creative Craft Center, Bakersfield, Calif.; and the Flair Gallery, Stockton, Calif.
June is survived by her husband, Bob, of Mosier, Ore., and one daughter, Layne Kathie Curtis, of Vancouver, Wash. Her younger daughter, Nancy Lynn Manning, died just prior to her 14th birthday in San Jose, Calif.
She is also survived by two granddaughters, Katrina Gemmel of Vancouver, Wash., and Gwyneth Eames of Beaverton, Ore. During the years of her illness she was lovingly cared for at home by her husband, Bob.
Artistic expression and growth were June's passion. She was a gourmet cook and created a beautiful and gracious home where family and friends were welcomed.
June loved to travel and explore new places, especially the Pacific Coast, and took several trips to Europe. June read widely and loved to learn about new ideas and creative ways of thinking.
June was buried on Oct. 28 at Our Lady, Queen of Heaven Cemetery in Salinas, Calif., next to her daughter Nancy's grave. A memorial service will be held at Riverside Church in Hood River on Thursday, Nov. 4, at 1 p.m.