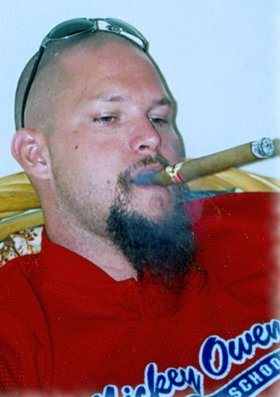 Heath Allen Nickel
October 14, 1969 - October 30, 2010
Heath Allen Nickel passed away at his home in Corbett, Ore., on Oct. 30, 2010, at the age of 41. He was surrounded by his loving family and friends.
Heath was born in Eugene, Ore., Oct. 14, 1969, to Kenneth Duane and Roberta (Edwards) Nickel. Heath attended Meadowlark Elementary School and graduated from Thurston High School in Eugene.
At the age of 19 he moved to Hood River. On Jan. 1, 1990, he married Amy Neiport in Portland. Together they had two spectacular children, Thomas and Rosemary. Heath later married Julia Weaver in Las Vegas on Jan. 10, 2002.
Heath lived in Hood River until 2001. He then moved to Portland and then Corbett. During his life Heath worked for various construction companies in Hood River and was also the owner and operator of Grumpy's Hot Rods, later Nickel's Hot Rods, until his health forced him to slow down.
He was a member of New Hope Community Church in Portland and was baptized Sept. 25, 2010.
Heath had a passion for hot rods and Harley Davidson motorcycles. He loved baseball, tattoos and collecting Coke memorabilia. He was an avid University of Oregon fan.
Heath had a big heart and loved spending tpime with his kids. He came home from the hospital on Oct. 13 and celebrated his 41st birthday on the 14th. He often said that his last weeks were the happiest days of his life.
Heath was especially grateful to his aunt, Kathy Webb, for all her help during his final days.
He is survived by his wife, Julia Nickel, of Corbett; son Thomas Nickel and daughter Rosemary Nickel, of Hood River, and daughter Hailey Simon of Corbett; parents Kenneth Nickel and Bonnie Nickel, of Commerce City, Colo.; sister Jodie Frese and nieces Lillian and Iris of Commerce City; sister Traci Peterson and nephews and niece Ryan, Michael, Cory and Trinity of Eugene; brother Lance Gar of Washington; and numerous cousins and friends.
A memorial service will be held at 10 a.m. Saturday, Nov. 6, at the Christian Missionary Alliance Church in Hood River with a Celebration of Life barbecue to follow at the Hood River Little League fields. Gardner Funeral Home is handling arrangements.