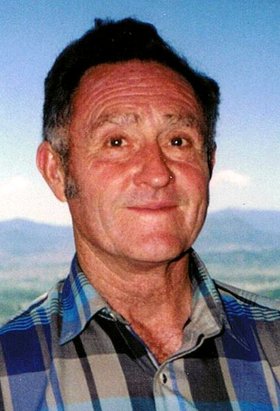 Charles "Dick" R. Gove
May 15, 1931 - September 25, 2010
Charles R. "Dick" Gove, 79, a resident of Mosier, Ore., passed away at the Oregon Veterans Home Sept. 25, 2010, with all his family at his side.
He was born in Denver, Colo., on May 15, 1931, to Leiland and Bertha (Newman) Gove.
Due to his father's severe asthma the home in Arvada was sold, the family car and a trailer were packed and on Aug. 21, 1944, Dad Lee, Mom Bertha, brother Bob and Dick, the dog, and cat were headed to Portland, Ore. It was so hot they stopped to rest in The Dalles.
While Bertha and the boys were resting on the big lawn in front of the train station Lee took his Letter of Introduction of Employment to the Kaiser Shipyard and was hired to start to work as soon as possible. On Sept. 13, 1945, they purchased a family farm in Mosier and spent the rest of their years there.
When Dick entered the eighth grade he fell in love with Marjorie Wilson, a seventh grader. That love never faded and they were married Dec. 27, 1952. An acre of land was purchased across the road from Marjorie's parents and Dick began building their new home while working for his father-in-law in the cherry orchard business.
On May 26, 1953, Dick was drafted into the U.S. Army with basic training at Camp Roberts, Calif., for hand-to-hand combat to replace a unit in Korea. When his orders came through he was sent to Nurnberg-Furth, Germany, and drove a Litter Jeep and then a 2½-ton six-by-six troop carrier truck for two years.
When discharged in 1955 he came home to our first home finished. He was employed with Pacific Northwest Bell Telephone Company as a lineman. That was the era of buried telephone cable and he was so proficient with winces that he was requested all over the state of Oregon.
After working for the company seven years he fell from a telephone pole and ruptured three discs.
On Jan. 10, 1957, our first daughter Marcia was born, followed by Marilyn on Jan. 22, 1958. In 1968 we purchased the family orchard that Marjorie grew up on and moved across the road to the big house.
Dick became involved with reorganizing the Mosier Rural Fire Department. He was able to get U.S. Army surplus trucks which he hauled on our farm truck from Washington, Idaho and California and made them into fire-fighting rigs for a fire rating. He was the rural chief for seven years and with the fire department well over 20 years.
Dick was a Wasco County Deputy, a 50-year member of the Mosier Grange, The Dalles Elks, a 32nd-Degree Mason, a past Watchman of Shepherds White Shrine, American Legion and on the board of directors for Hood River Supply. After purchasing a small motel in Seaside, Ore., he was a member of the Seaside Chamber of Commerce for 15 years.
Dick will be missed by his wife, Marjorie, of 58 years; his daughters, Marcia Sawyer and her husband, Warren, of The Dalles, and Marilyn Cooper and her husband, Jon, of Oregon City; his grandchildren, Jared and his wife, Cora, of The Dalles, Renee Sawyer, of Salem, Ore., Salena Cooper-Doty and her husband, Jared, of Molalla, Ore., and Shauna Cooper, of Oregon City.
Also surviving are his three great-grandchildren, Michael, Colton and Ruthie; his brother, Robert (Bob) Gove, and sister-in-law, Verna Jean, of Meridian, Idaho; his nephew, Victor Gove; and his nieces, Becky Veatch, Evelyn Hale and Jan Galbreath.
Viewing will be held on Friday, Oct. 1, from 3-5 p.m. at Spencer, Libby and Powell Funeral Home, 1100 Kelly Ave., The Dalles. Funeral services will be held on Saturday, Oct. 2, at 2 p.m. at Calvary Baptist Church.
Memorial contributions may be made to the Mosier Fire Department or Alzheimer's Association.