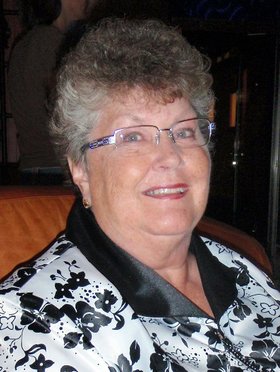 Beverly Ann Edwards
January 26, 1940 - October 8, 2010
Beverly Ann (Reams) Edwards, 70, died in Vancouver, Wash., on Oct. 8, 2010, from melanoma cancer.
She was born in Bend, Ore., on Jan. 26, 1940, to Cecil John and Dolly Bell Reams, the third daughter and middle child in a family of seven. Beverly was raised with four siblings: Betty, Bonnie, Roberta and Perry.
Her family moved from Bend to Portland, Estacada, Molalla, Mosier and finally settled in Hood River, where Beverly attended Barrett Grade School, Mid Valley Junior High and graduated from Wy'east High School
in 1958.
After graduation, Beverly moved to Portland to live with her sister, Betty. She worked as a stenographer at Pacific Bell for seven years.
She met her future husband, Robert LaBrie Edwards, shortly after moving to Portland and they were married on Sept. 3, 1960. Together they raised three daughters.
Beverly worked as a childcare provider for many years so that she could stay at home to raise her family.
In 1972 Bev, Bob and their girls moved to Banks, Ore. She began working at Tektronix and enjoyed her job as an administrative assistant.
After retirement, Bev and Bob moved to Lyle, Wash., in the High Prairie area. They were very active in the community.
She loved flowers, birds, gardening, scrapbooking, cross-stitch, '58 T-Birds, dominos, card games, road trips, the ocean, travel, casino trips, family and her beloved teacup poodle, Fifi.
More than anything, she loved being a wife, mother and grandmother.
She had a positive, fun-loving, kind and gentle personality and was loved by all who knew her.
This September, Bev and Bob celebrated their 50th wedding anniversary by cruising the Mexican Riviera along with 18 family members.
Beverly is survived by her husband, Bob; daughters Toni Cox, Dawn Ewers and Melanie Maguire; daughter-in-law Tina Gannon; sons-in-law Steven Ewers and Jim Cox; grandchildren Amanda Sallee and Adam Ralston; sisters Betty Nance, Bonnie Lara and Roberta Pike and a brother, Perry Reams.
She will be missed by all who knew and loved her.
A celebration of life will be held at High Prairie Community Center, 701 Struck Road, Lyle, Wash., on Friday, Oct. 15, at 2 p.m.
In lieu of flowers, donations may be made (in the name of Beverly Edwards) to Celilo Cancer Center, 1800 E. 19th St., The Dalles, OR 97058 or the Ray Hickey Hospice House, 2112 E. Mill Plain Blvd., Vancouver, WA 98668.