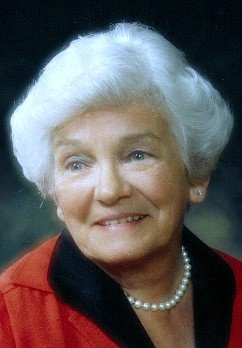 Helen Young Gerlinger
July 20, 1911 - October 9, 2010
Helen Young Gerlinger slipped away peacefully Saturday morning, Oct. 9, 2010, with her two daughters by her side. Her beloved husband, Carl, to whom she was married for 73 years, preceded her in death.
Helen was born in Hood River, Ore., to Claude and Flora Young Copple, July 20, 1911. She was raised on a farm with a view of Mount Hood and Mount Adams, surrounded by apple and pear orchards along with 35 Jersey cows and 300 chickens.
When it snowed in Odell Valley her mother took her to school in a sleigh pulled by a horse named "Bessie." Helen was valedictorian at Odell High School and continued her education at University of Oregon, where she majored in music.
Helen and Carl met at the U of O, married and moved to Dallas, Ore. They raised their two daughters in Dallas before moving to Salem in 1967. They had many friends and led an active life together, including travel abroad, trips down the Rogue River (with the Rogue River Rovers), family vacations and gatherings at their farm in Dallas.
Helen was an avid Duck fan and supporter of University of Oregon.
Helen was of strong pioneer stock. Her grandparents and great-grandparents came across the Oregon Trail from Independence, Mo., in 1852 and settled in Lane County. Her great-grandfather, Jacob Gillespie, was a Presbyterian minister and circuit rider, establishing churches throughout Lane County.
Helen's life was anchored by her faith in Jesus, evident by her generous and loving heart for family, friends and her church, First Presbyterian Church in Salem. She loved being involved in her local community and was a generous supporter of The Salvation Army, Assistance League, Young Life, Salem Hospital, Salem Carousel and many others.
Helen had a true mother's heart and always put others first. As the years passed she became a symbol of pure love and touched many lives in her own quiet way ("Hello Honey" and "I love you" were her favorite words). She set an example of how to live one's life on earth in preparation to join her beloved Lord. She leaves a legacy of thoughtfulness, generosity, kindness and love of life to her family and friends.
Helen is survived by daughters Ann Lyman (Ron) and Mary Gerlinger; grandchildren Mark Lyman (Kim), Teri Schaefer (Rick) and Elizabeth Bergeron (Matt); great-grandchildren Caitlin Hamblin (John), Peter Schaefer (Taryn), Molly Johnston (Ryan), Rebecca Schaefer, Matt Lyman and Brynn McNally; and great-great-grandson JJ Hamblin.
Our family is deeply grateful for Mother's incredible support givers of several years: Carol, Alvina, Sharon, Teri, Francel, Nicole, Rene and Sandica.
Visitation will be at Virgil T. Golden's from 11 a.m. to 5 p.m. on Saturday, Oct. 16. The memorial service will be held at 3 p.m. Sunday, Oct. 17, at Salem First Presbyterian Church.
In lieu of flowers, remembrances may be sent to Salem Hospital Foundation, P.O. Box 14001, Salem, OR 97309-5014; Young Life Salem, P.O. Box 3865 Salem, OR 97302; Salem First Presbyterian Church, 770 Chemeketa St. N.E., Salem, OR 97301; University of Oregon Foundation, 360 E. 10th Ave., Suite 202, Eugene, OR 97401.
Arrangements are by Virgil T. Golden Funeral Service.