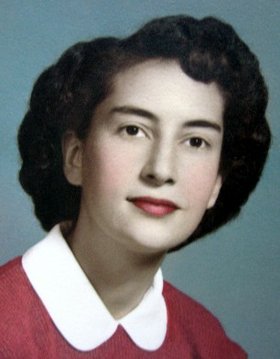 Patricia Ann Pearson
December 24, 1932 - October 19, 2010
The Lord called Patricia Ann Pearson home on Oct. 19, 2010. She was in the presence of her family in Vancouver, Wash.
Pat was born Dec. 24, 1932, in Hood River, Ore., and grew up on the family orchard in the Hood River Valley, surrounded by acres of apple and pear trees. After graduating from Hood River High School in 1951, she attended the University of Portland, graduating magna cum laude in 1955 with a Bachelor of Science degree in nursing.
She married Robert Pearson in December 1957, raising their five sons in White Salmon, Wash., Antioch, Calif., and eventually returning to southwest Washington in 1977. She loved the nursing profession and was a registered nurse in California and Washington.
Pat (P2) was the charge nurse at the Woodland Convalescent Center in Woodland, Wash., for almost 20 years before retiring in 1995. She continued to be active and enjoyed crewel, crocheting and gardening.
She traveled to Australia, New Zealand and Switzerland with her husband and also took shorter trips to Reno and Alaska with her friends and family. For the past several years she greatly enjoyed regular bunko and pinochle gatherings with friends.
Pat was a lifelong active Catholic, serving for many years as a lector at St. Mary of Guadalupe Catholic Church in Ridgefield.
Patricia is survived by Robert, her husband of 53 years; her sons and their wives: James and Dixie, Edward and Ivy, Duane and Annette, Russell, and Mark and Jennifer; sister-in-law Natalie Blue; 11 grandchildren, and one great-grandson.
She was preceded in death by her parents, Alfonse and Margaret Mohr; brothers Edward, Bud and Jim; and sisters Margaret Furrow, Florence Brewer and Mary Wendling.
She was extremely proud of her sons and their families, and loved them all greatly.
A memorial Mass will be held at noon on Wednesday, Oct. 27, at St. Mary of Guadalupe Catholic Church, 1605 N. 65th Ave. in Ridgefield, Wash., with a reception immediately following. An interment ceremony will be held at St. Mary's Catholic Cemetery on Tucker Road in Hood River, Ore., on Thursday, Oct. 28, at noon.
The family requests that in lieu of flowers or other gifts, memorial contributions be made to the Seton Catholic High School, 811 N.E. 112th Ave., #200, Vancouver, WA 98684. Seton High School is a nonprofit organization.