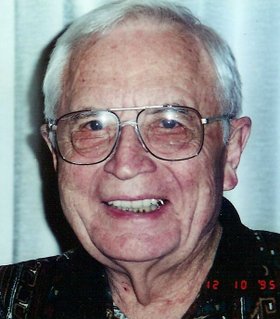 Herbert "Jack" Charles Morse
March 9, 1917 - August 14, 2010
Jack Morse passed away at the age of 93 on Aug. 14, 2010. Herbert Charles "Jack" Morse was born in Portland, Ore., on March 9, 1917. His family later moved to Vancouver, Wash., where he graduated from Union High School in 1935.
He was active in 4-H and was part of a 4-H delegation to Washington, D.C., in 1935. After graduating from high school he worked at Crown Zellerbach to earn money to continue to college.
Jack served four years in the Army, and spent three years in the South Pacific during World War II. He married Martha Jeanne on the 5th of January, 1941, in Tacoma, Wash., where he was stationed at Fort Lewis. Within a month he was in the South Pacific in the 41st "Sunset" Division.
He was discharged from the Army after serving four years and returned to Washington State College and graduated in veterinary medicine in 1948. He and Jeanne moved to Hillsboro, Ore., for his one-year internship in veterinary medicine. Through his brother Harry Morse, an accountant, Jack and Jeanne met Ady and John Arens in Hillsboro, Ore.
Jack took a veterinary position in Hood River County in 1949. He was the only veterinarian in his practice, Hood River Veterinary Service, until 1962, and traveled to Hood River and Skamania counties. At the beginning of his practice there were many dairy farms and many office calls were "out in the field."
Many of his experiences read like a James Herriot novel, "All Creatures Great and Small." He worked full-time for 39 years, and continued part-time until 1990. The practice was sold to Drs. Tom Gilliom and Laura Makepeace, and became Tucker Road Animal Hospital.
Jack had many interests and loved to be busy and liked a challenge. He and a group of friends, including Betty Stenberg, learned to fly. He flew a Cessna up and down the Gorge, making one trip to California. The view was breathtaking.
He learned to speak and write Spanish after making trips to Mexico in the 1960s. He learned Spanish, and later helped with reading literacy. He wrote a section called "Doc Says" for the Hood River News.
He went fishing to relax. He swam the Columbia River Cross Channel Swim at age 70. He took painting lessons with daughters Kelly and Marty from Norm Tucker.
Jack became a ham radio operator after encouragement from his brother Harry. Harry and his wife, Leonora, lived in Vancouver, Wash., and the two brothers stayed close through their lifetime. Harry Morse passed away in 2006.
Jack and Jeanne liked to travel. They traveled to Mexico frequently and made trips to Europe, Canada, Alaska and Hawaii. With daughter Marty and son-in-law Eugene Wilcoxson in Australia, they were able to make trips to visit and see grandson Joshua and Matthew.
Jack and Jeanne took road trips and traveled by train to visit Patty and son-in-law Cliff Roginic's son Gabe graduate from high school.
After retirement, he and Jeanne took road trips. They enjoyed going to the Elks Lodge, where Jack became a lifetime member in 1988. He had served in offices including Exalted Ruler in 1969-70, and Chaplin, and remained active in the Elks for years.
Jack and Jeanne enjoyed going to dinner almost weekly and meeting and talking with friends.
He is preceded in death by his wife of 68 years, Jeanne Morse, who passed away on July 10, 2010.
Jack is survived by four daughters, Patty, Molly, Marty and Kelly, and three grandsons: Joshua, Gabriel and Matthew.
He is also survived by his brother Harry's daughters, Linda, Florence and Gail, and grand-daughters Katharine and Margaret Mary; six nieces on Jeanne's side of the family, Barbara, Kathleen, Rosemary, Linda, Theresa and Janice; and five nephews, William, Herb, Warren, Francis and Glen.
A joint memorial service for Jack and Jeanne Morse will be held Saturday, Sept. 11, at 10 a.m. with fellowship to follow in the Pioneer Room at 11 a.m. at the Riverside Community Church. In lieu of flowers, the family encourages donations in Jack's honor to Adopt A Dog–Hukari Animal Shelter (www.hoodriveradoptadog.org), Michael J. Fox Foundation for Parkinson's Research at www.michaeljfox.org, or a charity of your choice.
Arrangements are under the direction of Anderson's Tribute Center (Funerals, Receptions, Cremations), 1401 Belmont Ave., Hood River, OR 97031; 541-386-1000. Please visit www.andersonstributecenter.com to leave a note of condolence for family.