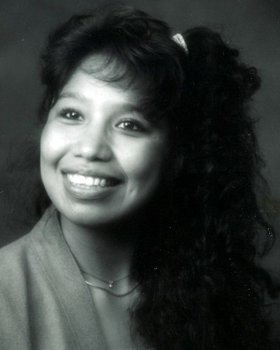 Maria "Tehowash" Ellen Nelson
September 6, 1955 - September 5, 2010
Maria Ellen Nelson "Tehowash" passed away peacefully in her home in Stanfield, Ore., on Sept. 5, 2010, one day before her 55th birthday.
She was born on Sept. 6, 1955, in The Dalles, Ore., to Robert Nelson and Joan Crawford. She graduated from Lyle High School in Lyle, Wash.
After graduating high school she held many different jobs, including positions with Sprint Communications and Nendel's Hotel in Hood River, Ore., the U.S. Forest Service in Randle and Trout Lake, Wash., Duchesne, Utah, and the Columbia Gorge Scenic Area.
In 1988 she transferred to the Sierra National Forest in California as a district administrative officer. She met her lifelong husband there and they were married in Lake Tahoe, Calif., in the summer of 1989.
In 1990 she and her husband obtained a dual-career transfer to the Willamette National Forest in Oregon where she was a district administrative officer. She performed budget analyst details to the Forest Service Regional Office in Portland, Ore. She then transferred to the U.S. Fish and Wildlife Service in Portland, Ore., as a budget analyst.
In 1998 she obtained a Bachelor of Arts degree in business communications from Concordia University in Portland. She transferred to the Siuslaw National Forest in Corvallis, Ore., as the Forest Equal Employment Opportunity specialist. From there she took a job as a budget analyst with the State of Oregon Department of Human Services in Salem.
In 2008 she landed a job as a budget analyst with the U.S. Army Corps of Engineers at McNary Dam in Umatilla, Ore.
Maria enjoyed traveling with her husband and other family members. She especially enjoyed her trips to Hawaii and looked forward to snorkeling adventures. She also enjoyed racquetball, volleyball, windsurfing and golf. She was a diehard Seattle Seahawks fan and attended games annually.
In addition to Hawaii, Maria traveled to Alaska, the Southwest, Texas, Boston, Mass., Florida, Alabama, Louisiana, and Mexico as well as many destinations in California, Oregon and Washington.
Her favorite holiday was Halloween. She loved to read and spent much of her spare time reading fantasy and science fiction. She also enjoyed playing Scrabble.
Maria lived a strong, productive life and provided support her family could count on.
She is survived by her husband of 21 years, Steve Garza. Other surviving family members include her mother, Joan Watlamet; sisters Mona Cree, Ramona Smartlowit, Victoria Nelson and Sandra Nelson; brothers Robert Nelson, Steve Nelson and Phillip Watlamet; and nieces and nephews Elizabeth Martin, Benjamin Rogers, Joseph Nelson, Crystal Star and Connie Joe Veloz.
She was preceded in death by her father, Robert Nelson; her stepfather, Roy Watlamet; brothers Stanley Smartlowit and James Umtuch; her baby sister, Roberta Nelson; and her grandmother, Cassie Tahkeal.
Dressing services were held in the Burns Mortuary of Pendleton, Ore., Wednesday, Sept. 8. Seven Drum and overnight services was held at the Nixyaawii Longhouse in Mission, Ore., Sept. 8. The funeral procession to the Agency Cemetery took place Thursday, Sept. 9.
Sign the online guestbook at www.burnsmortuary.com. Burns Mortuary of Pendleton is in charge of arrangements.