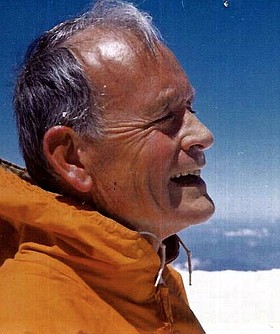 S. "Gorie" Gorham Babson
unknown - unknown
The life of S. Gorham Babson (Gorie) was an exceptional one by any measure. A gentle-hearted and kind man, he was loved and admired by everyone, and his five daughters celebrate his 98 years on this planet.
Gorham was born in Portland and grew up on his parents' apple and pear tree orchard in the Upper Hood River Valley. Mount Hood informed his love of nature and a spirit of place that remained with him. It was truly his playground, and he never tired of capturing it on camera.
Dr. Babson received his medical degree from the University of Oregon in 1936 and continued pediatric training at Columbia Presbyterian Babies Hospital in New York City and at Stanford Medical Center.
He was a popular pediatrician in Portland for 20 years, and his children enjoyed going on house calls with him all over the city, fighting as to who would carry his medical supplies, which they dubbed "the measles bag."
From 1961 until his retirement, Gorham worked at Doernbecher Hospital for Children, where he developed the Neonatal Intensive Care Center that he directed from 1968-77. His vast scholarship in the field of premature babies included co-authoring one of the first textbooks on high-risk pregnancy and the intensive care of the neonate.
A fond memory for his girls was dressing him up as Santa Claus and dispensing Christmas presents at Doernbecher for the children too ill to go home. He was a natural.
Gorham's 60 years of a wonderful marriage to Ruth Elizabeth Lambert was cut short by her death in 2000. He was also deeply saddened by the passing the same year of his granddaughter, Hillary Dobbin.
His family life is his legacy, and he will remain "Pop-pops" to his 12 grandchildren and six great-grandchildren.
Gorie-the-traveler, however, is how many people will remember him. There was no place he would not venture to and always quipped how he would rather be "eaten by a crocodile" than die in bed. Travels to Africa, the Amazon and Afghanistan were some highlights shared by those lucky individuals.
We love you, Dad: Anne Anderson, Bonnie Hero, Sydney Blaine, Jane Babson, Barbara Babson. There will be no service; a private gathering will be held later.
Remembrances in his honor may be made to the Neonatal Intensive Care Center at Oregon Health & Science University.