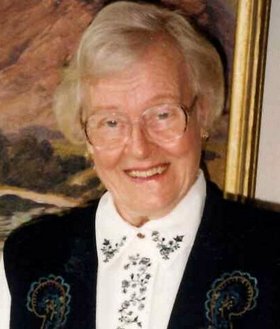 Bertha "Bertie" M. Downing
January 6, 1920 - September 4, 2010
Bertha (Bertie) M. Downing was born to Elmer and Lillie Moilanen in Brockett, N.D., Jan. 6, 1920. She was the second of four children that would complete the Moilanen family.
When she was 6, living in Hibbing, Minn., she contracted polio and was unable to walk for about one year. When she recovered, she enjoyed a lifetime of physical activity.
Bertie loved sports and had a competitive spirit. In her early years she played tennis and basketball and swam in any available pond. Later she became hooked on golf and played as much as she could.
Her family came to Hood River by train in 1928 and settled in Odell, where she attended the local schools, graduating from Odell High School in 1938.
Bertie married Raymond Milton Downing in 1940 in an outside ceremony at her parents' home in Odell. They were married for 57 years.
Bertie was a homemaker, enjoying many creative hobbies such as tole painting, ceramics, weaving and sewing. She also loved gardening and flower arranging, and was part of a garden club and arrangers group. She valued her family and friends, and her gift for hospitality and cooking made holidays, birthdays and other occasions special and always tasty.
Bertie and Ray were members of the Christian Missionary Alliance Church for over 65 years, where Bertie served as a deaconess and taught Sunday school. When they built the new church, Bertie and Ray worked on planning and then painting and landscaping the new church facilities and grounds. In the last few years she has worshiped at Gateway Presbyterian church in The Dalles, delighting in the lively music.
Bertie and Ray were actively engaged in their children's activities. She was a den mother for cub scouts, planning projects and outings. She always welcomed her children's friends over to her house and took an interest in them.
Bertie and Ray had a lovely, complementary relationship. They shared a fun sense of humor and enjoyed golfing and travel. Europe, China, Mexico, and various places around the U.S. were destinations they enjoyed so much. While in Finland they flew almost to the Arctic Circle to meet distant cousins Bertie had rediscovered through old letters.
As Bertie's Alzheimer's disease progressed she was fortunate for the love and care she received from Mary Davidson, Chayo Hyskell, John Stevens and Sunshine Club at Brookside. Recently she was blessed with the care of Heart of Hospice.
Bertie was preceded in death by her parents, Lillie and Elmer Moilanen, her husband, Raymond Downing, her son Steven Downing, her sister Alice Swyers, her brother Ronald Moilanen and her niece Rhonda Moilanen.
She is survived by her sister Linda LaBounty (Jim), her son Dennis Downing (Linda), her daughter Carolyn Stevens (John), her grandson Peter Downing (Maddy), her granddaughter Jenny Ruth (Bryan) and two great-grandchildren, Olivia Joanne and Peter Dennis Downing. She also has three nieces (Kathi Pointer, Sally Moore and Sharon Phillips) and four nephews (David Hyskell and Tim, Mike and Rich Farra).
Memorial gifts can be sent to Heart of Hospice, the local food bank or the Alzheimer's research.
A celebration of Bertie's life is planned for noon Friday, Sept. 17, at Anderson's Tribute Center. Friends who would like to visit with family are invited to do so Thursday evening from 4-6 p.m. at Anderson's during a time of viewing. Entombment will precede her service at Idlewilde Mausoleum.
Arrangements are under the direction of Anderson's Tribute Center (Funerals, Receptions, Cremations), 1401 Belmont Ave., Hood River, OR 97031; 541-386-1000. Please visit www.andersonstributecenter.com to leave a note of condolence for family.