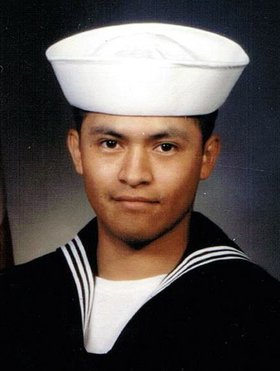 Marvin G. Molina
May 25, 1974 - September 3, 2010
Marvin G. Molina, 36, a resident of The Dalles, Ore., passed away at a local care facility on Friday, Sept. 3, 2010.
He was born May 25, 1974, in San Juan Tepezonte, San Salvador. At the age of 10 he came to Weston, Ore., where he was raised and educated. He graduated from Weston-McEwen High School in 1994.
Marvin began his career in the U.S. Navy in 1996. He served on the USS Nimitz and the USS John C. Stennis, and was looking forward to serving on the USS George H.W. Bush when his health required his early retirement from the Navy.
Marvin enjoyed photography, walking, sightseeing, camping and football.
He is survived by his parents, Sean and Belen Mason; his children, Nickolas, Alyssa and Alex Molina; his grandparents, Louisa Gonzales and John and Dorothy Mason; great-grandmother, Mattie Lee Hinton; his sisters and their families: Marie Wells and her husband, Rhett, and their daughter, Arianna; Elisa Pike and her husband, John, and their daughter, Allison; Nickole Ramirez and her husband, Jorge, and their children, Morgan and Anthony; Angelica Molina and her daughter, Meliza; and Gicela Barahona and her daughter, Belinda, and her son, Lucas.
He is also survived by brothers John Soto and his wife, Saydi, and their children, Jewels and Darik and Adan Soto and his wife, Kayla, and their children, Liam, Malokai Hendershot and Emma Donahue; Abelordo Molina; Alberto Molina and Tonyo Molina; uncles Adan Gonzalez and his wife, Shirley, and Eloy Gonzalez; aunts Norma DePriest and her husband, Steve, Olga Gonzalez and Salli Johnson. Several nieces and nephews, a cousin, and his former wife, Jamie Molina, also survive.
A memorial service with military honors will be held Friday, Sept. 10, at 2 p.m. at Spencer, Libby and Powell Funeral Home with Jim Hazlett officiating. Burial at sea to be performed by the United States Navy Mortuary Affairs.
Memorial contributions may be made to Hospice of the Gorge, 715 Myrtle St., The Dalles, OR 97058.