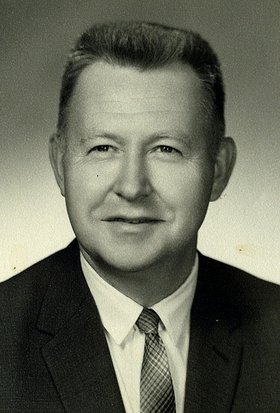 George "Wayne" Wayne Foster
November 11, 1913 - August 31, 2010
George Wayne Foster, whose cup was always half-full, died peacefully on Aug. 31, 2010, in The Dalles, Ore. Wayne was an only child, born to T. Edward and Sylvia Foster, in Union, Ore., on Nov. 11, 1913. He graduated from La Grande High School in 1933 and the University of Oregon in 1937.
Wayne married Esther Dexter the day before Thanksgiving 1937 and thereupon embarked on a wonderful 54 years of marriage. Esther and Wayne had two sons, Stuart and James.
Wayne's desire always was to be a school administrator and he and Esther lived in many small Oregon communities — Jordan Valley, Gardiner, Dufur, Condon and Madras — as he furthered his profession. He was high school principal in Dufur and Condon, and in Madras he served as county school superintendent for two years.
Following that, Wayne was superintendent of schools in Hood River for 10 years and in St. Helens for 16 years. He retired in 1977. Wayne was an innovative administrator, renowned for his expertise in school finance.
Wayne's hobbies were history — especially family — fly-fishing, woodworking and model shipbuilding. Lasting gifts to his descendents are four volumes of family history complete with photographs, a love of fly-fishing, especially on the Metolius River, countless pieces of wooden furniture and numerous model ships.
Following World War II, he built models of both the Japanese and United States navies and gave presentations using the models to describe the naval battles of the war.
Wayne was predeceased by his wife Esther in May of 1992, and by his second wife, Elizabeth Calmettes Foster, in 2003.
He is survived by his sons Stuart (Karen), of Medford, Ore., and James (Sue), of The Dalles, Ore.; and six grandchildren: Mary Tenyue, of Hastings, England, Eric, of Medford, Ore., Evan (Christa), of San Mateo, Calif., Ian, of Portland, Ore., Stuart James (Jennifer), of Salem, Ore., and Emily Page (Christian), of Portland, Ore. Five great-grandchildren also survive him: Marina and Henry Foster, of Salem, and Genevieve, Charles and Jeffrey Page, of Portland.
For all of his adult life, Wayne fished the Metolius River where he taught his sons to fly fish. Many a September week Wayne and his beloved Esther could be found camped on the river. It was a good life and the gatherings of family and friends on the river topped it off.
A private memorial will be held when the family gathers at Thanksgiving. Remembrances in Wayne's honor may be made to the St. Helens High School Student Foundation, P.O. Box 1600, St. Helens, OR 97051, or the Oregon Historical Society.